The head of the Chinese Communist Party (CCP) Hu Jintao gave a speech at Pretoria University in South Africa on February 7th, 2007. Falun Gong practitioners peacefully protested against the violent persecution of Falun Gong by the CCP during the past seven years and called for all circles of society to pay attention to and help stop the CCP atrocities.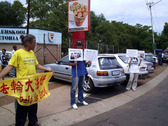 Falun Gong Practitioners peacefully protest against the persecution of Falun Gong by the CCP
Falun Gong practitioners unfolded their protest banners and a banner reading, "Falun Dafa Is Good." They told the story of Falun Gong to security guards and passersby. Friendly people of South Africa expressed their sincere support and good wishes.
Plainclothes Chinese security guards and officials in Hu's company attempted to stop the protest by continuously harassing Falun Gong practitioners and sabotaging the protest. Before Hu's motorcade arrived, a plainclothes Chinese security agent snatched the banner stating "Falun Dafa Is Good." He sent many Chinese people to block Falun Gong practitioners' banners. They also pressured the police of South Africa and tried to force their barbarous conduct onto South Africa, a county of freedom. However, having learned the true story of Falun Gong, the policemen of South Africa were very friendly toward Falun Gong practitioners and helped them stop the sabotage. Falun Gong practitioners expressed their gratitude to the police after the protest.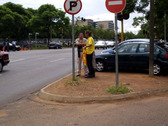 The man (on the left) who snatched the banner is a plainclothes Chinese security agent
You are welcome to print and circulate all articles published on Clearharmony and their content, but please quote the source.