A Chinese New Year Celebration was held in Chinatown in Adelaide, South Australia, on February 24th, 2007. Local residents, politicians and people from all walks of life celebrated the New Year. Falun Gong practitioners participated in the celebration and spread the benefits of Falun Dafa to Chinese and Australians.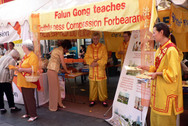 Falun Gong practitioners clarify the truth at Chinese New Year celebration
The Falun Gong booth, decorated with bright colours, looked beautiful and harmonious. Falun Gong practitioners in golden exercise suits demonstrated the smooth exercise movements. Some of them distributed fliers, paper lotus flowers and other Dafa materials. Some answered questions. A video about Falun Gong and the persecution of Falun Gong in China was played at the booth and attracted many people.
Many young students from China and new immigrants were surprised to see the Falun Dafa booth. They happily accepted truth-clarification fliers, talked about Falun Gong and watched the practitioners. Many took pictures of this peaceful scene. The practitioners greeted every Chinese person with "Happy New Year!" Many Chinese people accepted the truth-clarification materials with a smile.
You are welcome to print and circulate all articles published on Clearharmony and their content, but please quote the source.