Thirty-six pictures exhibited at the "Truthfulness, Compassion, Forbearance" Art Exhibition could be seen for a second time in Amstetten.
Initiated by the township government and The Austrian Association for Art and Cultural Exchanges Ars Cara (in German at: www.arscara.at), this once in a lifetime exhibition was opened to many visitors at the town hall gallery.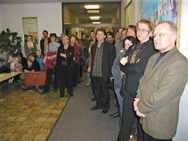 Visitors at the opening of the exhibition
During the opening ceremony on January 8th, Melanie Fleck, President of Ars Cara welcomed many VIP guests, parties interested in the arts, politicians and regional media. She explained during her introduction the connection of this exhibition to the persecution of the cultivation school Falun Gong by the Chinese Communist Party.


Melanie Fleck, President of the "Ars Cara" association
During an unrehearsed opening speech, the President of the International Society for Human Rights (ISHR-IgfM) Mrs. Katharina Grieb informed all those present about the latest exposure of organ harvesting and the trade in organs. She made the visitors aware of the atrocious and unbelievable facts with the provocative question: "How much will one have to pay for the living heart of a Falun Gong practitioner who was killed in the process?"


Katharina Grieb, President of ISHR-IgfM
The main organiser of this exhibition, the councilwoman for culture in Amstetten and a national councilor Mrs. Ulrike Königsberger-Ludwig was proud that this exhibition that had been shown in many large cities internationally had come to the public rooms of city hall. She explained the seriousness behind the exhibition and that it was necessary that one came to grips with it. As she was deeply touched by the pictures herself, she told the visitors, "Please let the pictures talk to you, even though many are quite shocking."


Ulrike Königsberger-Ludwig, councilwoman for culture and national councilor
Members of the "Coming for You" Choir assured a festive ambiance during the opening. The visitors were surprised that choir of Austrian singers performed songs in Chinese. The impact of this was shown by the guests' complete silence and total attentiveness to the exhibited pictures.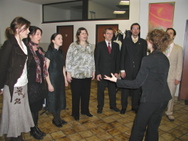 The Austrian choir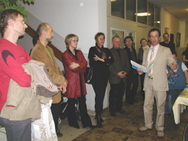 Guided tour of the exhibition
Even the local television station "Mostviertel-channel" broadcasted an extensive report on this cultural event.
The "Truthfulness, Compassion, Forbearance" exhibition could be seen until March 2nd in Amstetten town hall.
Originally published in German at: http://clearharmony.de/articles/200702/36284.html
You are welcome to print and circulate all articles published on Clearharmony and their content, but please quote the source.