At noon on March 10th, 2007, the annual Saint Patrick's Day grand parade was held in White Plains, the county seat of Westchester County. Around seventy groups participated in this parade.The Falun Gong practitioners' procession from New York was the only group consisting mainly of Asian people. They had an exercise demonstration team and a waist drum team, both of which were welcomed by the people of Westchester County.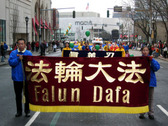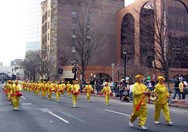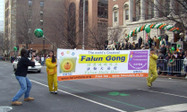 Falun Gong practitioners participate in the Saint Patrick's Day grand parade. They were welcomed by the local people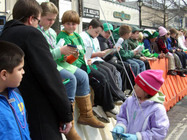 Children reading Falun Gong flyers
Westchester County is about a one-hour drive from New York City. It has convenient transportation and a nice environment, and is one of the ten best counties across the US in terms of quality of life and family income. IBM and 170 other companies have their headquarters in this county.
The Falun Gong practitioners' procession was headed by banners reading, "Falun Dafa," and "Truth-Compassion-Tolerance," followed by a silver lion and a traditional "big head baby" performance. The active play between the silver lion and the big head baby brought festival joy.
The exercise demonstration team practised sets one and three of the Falun Gong exercises. The practitioners wore traditional yellow exercise suits and demonstrated the graceful exercises.
The practitioners' waist drum team was magnificent, with many players. The music, "Falun Dafa is Good," accompanied their drumming. Their joyful performance touched the spectators.
Young practitioners smiled and distributed truth-clarification flyers to spectators.
The practitioners brought the grace of Falun Dafa to people in this county, who also expressed their good wishets to the practitioners.
A person with two children told the reporter that he got to know Falun Gong on Wall Street. He wished the practitioners good luck.
Bill Ryan, legislature Chairman of Westchester County, said that the Falun Gong procession was wonderful. As a member of the community, their participation is important. He welcomed them to come back next year.
George S. Latimer, New York Assembly member, said that in the US, we believe in diversity and that each organisation has a right to participate in and demonstrate their culture. Every one has rights and freedom of belief. He said that the practitioners have done well.
Joseph M. Delfino, Mayor of White Plains, said that the city was happy for Falun Gong's participation. Last year, two large Chinese restaurants opened in the town. More and more Asian people, especially Chinese, are settling in White Plains. The parade is to commemorate Saint Patrick for his persistence in his belief. The mayor stressed the point that here we respect each other. We should all live together peacefully on this earth.
You are welcome to print and circulate all articles published on Clearharmony and their content, but please quote the source.