On March 25th, 2007, Falun Gong practitioners participated in the Greek Independence Day Parade in Baltimore.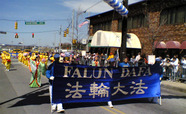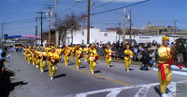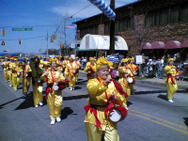 The Falun Dafa procession was well-received in its first appearance in the Greek community
The Greek Independence Day Parade celebrates the independence of modern Greece in 1920. It is celebrated in many Greek communities along the Mid-Atlantic coast. In 1987, President Ronald Reagan proclaimed March 25th as Greek Independence Day: A National Day of Celebration of Greek and American Democracy.
This was the first time Falun Gong practitioners were invited to participate in the parade. The Falun Gong procession was composed of a waist-drum troupe and a celestial maiden dance troupe dressed in traditional Chinese costumes.
The theme of the parade was "Spirit of America, Legacy of Greece, Freedom and Democracy for All." The organisers said they had invited other ethnic groups so that subsequent generations would live in peace and the whole world would know that the voices of freedom would not be suppressed again.
Floats depicting Greek legends dressed up the streets of Baltimore. Also in the parade were the marching band of a Navy school, bands in different ethnic costumes, dance troupes, and children. Heavy-duty trucks were at the end of the parade procession.
American politicians also participated in the celebration. Among the political VIPs who led the parade were Senator Benjamin Cardin, Senator Barbara Mikulski, Congressman John Sarbanes, Governor Martin O'Malley, and Mayor Sheila Dixon.
The Falun Dafa procession was well received by parade spectators. When the procession passed the stage, the host introduced Falun Dafa, and one could hear many complimentary remarks from the audience.
You are welcome to print and circulate all articles published on Clearharmony and their content, but please quote the source.