Sponsored by the organisation, Free China, and co-sponsored by over 20 groups, a large-scale rally and parade with the theme, "The CCP Must Immediately Stop the Killing" was held on September 6th, 2007 in downtown Sydney. A major focus of the rally and parade was a reenactment that exposed the Chinese Communist Party's (CCP) organ harvesting from living Falun Gong practitioners. Numerous media organisations took photos of the reenactment from beginning to end.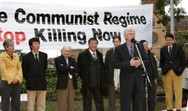 Members from over 20 different groups and organisations speak at the rally prior to the parade


Spokesperson for Falun Gong, Zhang Erping speaks at the rally


Calling for the rescue of Falun Gong practitioners illegally sentenced by the CCP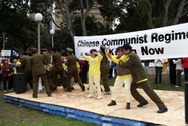 Reenactment exposing the CCP's persecution of Falun Gong

Parade entitled, "The CCP Must Immediately Stop the Killing" was the only parade involving road closures so far that was approved by the police during the APEC summit
Seeing the reenactment of live organ harvesting, some passersby stopped to watch and were shocked and burst into tears for the suffering of Falun Gong practitioners in China. Falun Gong practitioners who participated in the demonstration said that what they displayed here is only tip of the iceberg of all kinds of torture and persecution imposed upon Falun Gong practitioners who are imprisoned in China.
The parade caught the attention of numerous mainstream media organizations and became the focus of attention outside the APEC meeting sites. Over ten media organisations including Australian Channel 9, Channel 7, SBS, ABC TV, BBC, ABC Radio Broadcasting Station, The Sydney Morning Herald, Sydney Morning Herald Online, French Channel 24, The Daily Telegraph, 3G Radio Broadcasting Station, and 2GB Radio Broadcasting Station conducted interviews, and the ASP made a special interview on the event.
The parade and rally also attracted attention from passersby along the parade route. Many took photos with their mobile phones. When the procession passed through a major street in downtown Sydney, a Westerner gave the thumbs-up to the procession and said, "[The parade is] very good, so peaceful. Well done!"
Although police security is very tight during the APEC summit, the police still gave the green light to the rally and parade and approved the only parade involving road closures so far during the APEC summit.
You are welcome to print and circulate all articles published on Clearharmony and their content, but please quote the source.