On February 22, 2008, seven members of the Swedish Parliament issued a signed statement entitled, "Elected Officials of the Ruling Party Will Watch Divine Performing Arts' (DPA) Performance in Linkoping City." The statement signifies Swedish support for DPA and sends a signal to the Chinese Embassy that Sweden will protect the values of democracy and freedom of speech.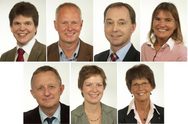 Members of Parliament signed a statement supporting the Divine Performing Arts: (Top left to bottom right) Andreas Norlén, Finn Bengtsson, Gunnar Axén, Betty Malmberg, Staffan Danielsson, Karin Granbom, Yvonne Andersson
Divine Performing Arts On Tour is scheduled to perform in Stockholm on March 24-26 and in Linkoping on March 27. On January 25, a Chinese Embassy official phoned Johan Lundgren, chief of the Cultural and Recreational Board of Linkoping, and demanded that DPA performances be stopped, threatening that relations between Linkoping and China would be affected. The attempt to interfere with the performance angered Swedish officials, and the deputy mayor in charge of culture and sports in Stockholm said that the Chinese diplomats were "excessive," and requested an apology and explanation. Later, this affair was exposed further in the media, and citizens expressed their discontent regarding the Chinese Communist Party attempting to interfere with Swedish internal affairs.
On February 22, support for DPA escalated when seven elected Members of Parliament from four ruling parties issued an open statement declaring, "All elected officials from the ruling parties will watch the Divine Performing Arts' performance to show our support for freedom of speech and democracy."
Member of Parliament and Doctor of Law, Mr. Andreas Norlén said in an interview, "We reacted strongly [to the Chinese Embassy's pressure]. We can't accept the Chinese government's attempt to export their pressure to Sweden. We believe that Chinese people are suppressed and it is bad that they don't have human rights such as freedom of speech. Now [the Chinese Government] tries to put their pressure and information blockade onto us. It is absolutely not acceptable."
Dr. Norlén said, "China has an amazing history, an ancient nationality, and a long history of culture. Their history is much longer than that of Europe. We are very interested in Chinese culture. I believe [the Divine Performing Arts Chinese Spectacular] will be a high level performance. I have read several reports about the performance and I am anticipating the day of the performance. It will be an unforgettable night. This is just one reason for watching the show. The most important issue is to support freedom and democracy."
He also invited the Chinese ambassador to respond to the statement. "We believe that the Chinese government is building a kind of wall around the country, trying to stop the influences from the outside world, attempting to stop the exchange of ideas between the east and west and stop free discussion. We want to tell the Ambassador of China, if you wish for peace and wish for China and its people to become rich, please come to Linkoping City on March 27 and watch the [DPA] performance with us. Then you will have opened a door in that wall. Mr. Ambassador, please tear down this wall."
The Divine Performing Arts has two companies touring the world right now. They will visit 60 major cities throughout the world, presenting the true traditional Chinese culture to an international audience.
You are welcome to print and circulate all articles published on Clearharmony and their content, but please quote the source.