On February 29th, 2008, Divine Performing Arts performed its first show in Tainan. Professionals from dance circles were very impressed with this show. About a dozen teachers and students, as well as the students' parents, from the Chen Pao Yu Dance School praised the show again and again. Dance instructor and director Chen Pao Yu especially admired the "figure, expression, strength and rhythm" of classical Chinese dance embodied in the show.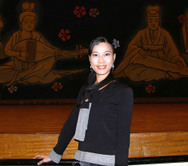 Chen Pao Yu, dance instructor and director of the Tainan e-Hua Dance Arts Education School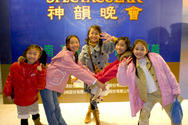 Students from the dance school
Chen Pao Yu said that the dancers' movements were very graceful, fully expressing the meaning and rhythm of classic Chinese dance. Especially, the dancers' facial expressions were very good.
She emphasised that the Divine Performing Arts Chinese Spectacular expressed traditional Chinese culture with its five-thousand-year history, and the women's performances embodied traditional Chinese women's reserved nature and light grace.
In the dance, "Drummers of the Tang Court," the men's masculine physiques electrified the audience. The dance was unique and original. They not only drummed with masculine rhythm, but also the whole dance was in harmony and unison, which was not easily done.
Chen Pao Yu graduated from the Department of Ballet of the Boston Dance Institute, in the USA. When she studied in America, she had been interested in Chinese dance, so she went to China every year to study dance. Currently, she runs the Tainan e-Hua Dance Arts Education School and mainly teaches Chinese dance. She said she would send two dancers to attend this year's Chinese Dance Competition in New York City, held by the New Tang Dynasty TV Station.
You are welcome to print and circulate all articles published on Clearharmony and their content, but please quote the source.