Practitioners dressed in golden yellow Tang Dynasty costume performed flowing exercises as dozens of onlookers gathered to watch the Falun Dafa Day activities on Saturday May 10th on the North Terrace, Trafalgar Square, London. A rainbow of coloured balloons arched over a royal blue banner which read: "Celebrating the 16th anniversary of Falun Dafa".
The weather in London was bright and sunny - Trafalgar Square was filled with people
Practitioners demonstrate the Falun Gong exercises
There was a celebratory atmosphere as golden costumes gleamed in the afternoon sun on one of the hottest days of the year so far. One practitioner who was there said: "Today is a celebration of the 16th anniversary of the introduction of this beautiful practice in society. We want to show to the people of London the beautifulness of Falun Dafa and call for an end to the inhuman persecution of practitioners in China. We hope that the world's conscience can be awoken."
Newcomers learn the Falun Gong exercises
As well as the exercise demonstration, practitioners staged a waist drum performance to the delight of a gathered audience of Chinese and Westerners. A stall was also set up to collect signatures to call for an end to the persecution near an avenue of golden-framed paintings recalling the spread of the practice in China before the Communist Party began its brutal persecution on July 20th 1999.
Practitioners write names in Chinese calligraphy for visitors to the Square
One onlooker said: I have heard of Falun Gong before. It seems there are two sides to it. "There is the propaganda put out by the Chinese regime. Then there is this side," she said, gesturing at the colourful display behind her. "The positive side – It's very inspiring."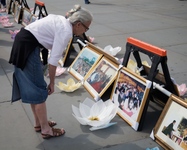 Studying the photo exhibition about the story of Falun Gong
During the day many fliers and DVDs were handed out both in Chinese and English with explanations about the practice and information about the brutal persecution. One onlooker said: "It's a very good idea to demonstrate."
Practitioners folded paper lotus flowers and distributed them to raise awareness about the practice and the persecution
Distributing leaflets and chatting with passersby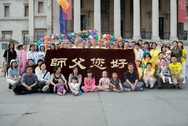 Group photo of practitioners - sending greetings to Master Li, founder of Falun Gong
You are welcome to print and circulate all articles published on Clearharmony and their content, but please quote the source.