The "2008 Green Expo" of Yilan County Taiwan came to a close on May 18th with a ceremony. The organisers invited Divine Land Marching Band to perform and County Mayor Lu Guohua came in person to host the Expo's closing ceremony.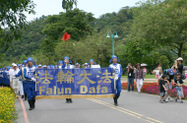 Divine Land Marching Band performing at Green Expo Yilan County Taiwan

Divine Land Marching Band performs on the stage at Yilan County Taiwan
In the afternoon, when the Divine Land Marching Band was preparing the uniforms before the performance, many people were attracted to them and watched them from nearby. When the band was performing and marching around the expo, the spectators were delighted and many took photos and videos. When the county mayor Mr. Lu arrived, the Divine Land Marching Band moved on to the stage and performed "Falun Dafa Is Good", "Ode to Joy", "Blessing" and other pieces.
One spectator, Miss Chen, said she was surprised because the band has members from 10 to 70 years old and it has only been established for a short time, but they performed so orderly and well, like any professional band. Another lady also said the Divine Land Marching Band's performance was very good and of high level and it was her first time to see it.
Ms. Lin from Yilan said she never saw a band of this size and in ancient style uniform. At first she thought the uniforms were Korean style and later she learned it was from the Tang and Song dynasties. She also said she had not heard this familiar melody ("Ode to Joy") for a long time and felt quite happy to hear it.
After the band marched around the expo, many people came to the band and took photos with the band and shook hands with the band leader.
Band director Mr. Chung Yuqi said they were very happy to participate in Yilan Green Expo's closing ceremony. The organisers of the green expo saw their band's performance at Nantou Flower festival and were impressed at their performance and scale. Thus, the organisers invited them to perform at this ceremony.
The Divine Land Marching Band of Taiwan was established one year ago. Since then, it had participated in many events both in Taiwan and overseas countries such as Malaysian National Day celebration, City Celebration in Jakarta Indonesia, 2008 Taiwan lantern festival, and the 2007 Taiwan National Sports Meet in Tainan City. They have received high praise from the audiences wherever they have performed.
You are welcome to print and circulate all articles published on Clearharmony and their content, but please quote the source.