On June 7, 2008, Falun Gong practitioners participated in the 6th Asian Festival under invitation of the city of Tulsa, Oklahoma. They demonstrated the Falun Gong exercises, gave music and dance performances and displayed the beauty of Falun Dafa. They were warmly received and became the focus of attention at the festival.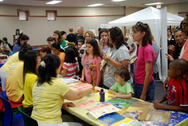 People learn about Falun Gong at the Asian Festival in Tulsa

Lotus Dance displays the beauty of traditional Chinese culture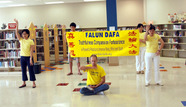 Falun Gong exercises are easy to learn and effective. Practitioners are of all ages and all ethnic backgrounds
It was the third time Falun Gong practitioners were invited to this large-scale activity held in the Public Library. They took this opportunity to introduce the ancient mind/body cultivation system to local residents. The festival is a free public event and attracts thousands of people every year. Activities include introduction to the cultures of Taiwan, Japan, Korea, Indonesia, the Philippines, India, etc., and a lot of art performances.
Practitioners demonstrated the Falun Gong exercises this year, and women practitioners gave a lotus dance performance. An American practitioner sang a song written by Falun Gong practitioners, "Coming for You" which touched the audience. The dance was given twice under the request of a TV news reporter. Many people wanted to learn Falun Gong, and some learned on the spot. Some said they would come to the exercise site.
The sponsor of the event provided practitioners with an outstanding booth location in the centre of the hall. As soon as people came in, they could see the banner "Falun Dafa" in English and Chinese. They learned about Falun Gong and took introductory materials. Many children were fascinated by the paper-lotus folding, and learned how to fold their own lotuses. The elegant pink lotuses with bookmarks printed with "Falun Dafa" and "Truthfulness, Compassion and Tolerance," were meaningful gifts to the children. They also learned how to say "Falun Dafa Is Good" in Chinese. The parents kept nodding when practitioners told their children to remember "Truthfulness, Compassion and Tolerance."
The Falun Gong booth was one of the most popular booths at the festival. There was a long line in front of the Falun Gong booth.
At the end of the festival, a man from a Japanese martial arts booth asked the practitioners out of curiosity, "What do you have at your booth?" He said he felt strong energy at the Falun Gong booth and it rotated continuously. Falun Gong practitioners gave him an introduction to Falun Gong. He learned it on the spot and said he would practice Falun Gong.
You are welcome to print and circulate all articles published on Clearharmony and their content, but please quote the source.