The biennial Taiwan National Games were held in Gaohsing this year. On October 24th, 2008, the host organisation invited the Divine Land Marching Band to perform at the torch lighting ceremony.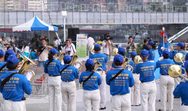 The performance of the Divine Land Marching Band catches the attention of reporters
Mr. Chen Ching-hua, the officer for the torch lighting ceremony and Director of the Education Bureau of Gaohsing City, said to the Deputy Director of the Sports Committee of the Taiwan government, "The band is outstanding. It was the first band for the opening ceremony of the 2007 Taiwan National Games and gave an excellent performance. It was also one of the major bands in the promotion parade for the 2009 World Games in Gaohsing. The band is very well organized and its performance is magnificent. It wins acclamation from citizens."
The band was established over one year ago and has been invited to perform in many celebratory events in many counties and cities. For example, it performed in both the opening and closing ceremonies of the 2007 Taiwan National Games, and the 2008 Taiwan Lantern Festival. It is the largest marching band in Taiwan and has more than five hundred members.
The band has also been invited to perform in South East Asian countries. For example, it performed in the Malaysia National Day celebration, and the Jakarta City Celebration. On October 12th, the band won the Best Group Spirit Award for the second year at the Jilong Festival of the fifteenth day of the seventh lunar month.
You are welcome to print and circulate all articles published on Clearharmony and their content, but please quote the source.