The annual Earth Day Festival in St. Louis was held in Forest Park on April 26th, 2009. As usual, local Falun Gong practitioners set up their booth at the festival, demonstrated the Falun Gong exercises, and introduced this Chinese cultivation practice following Truthfulness-Compassion-Forbearance. Many people felt unexpectedly rewarded when they learned about Falun Gong.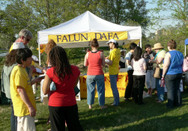 Many people stopped to listen to Falun Gong practitioners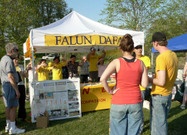 This young couple was happy to find out about free Falun Gong exercise classes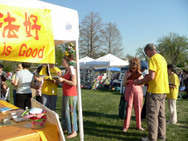 Anti-persecution signature collection
Earth Day is an important annual event in St. Louis. Thousands of people went to this year's Earth Day in Forest Park.
Falun Gong books in Chinese and English were neatly displayed on a table. Practitioners did the exercises to beautiful music. The peaceful atmosphere made people stop to get a flyer. Hearing about practitioners being persecuted in China, people signed their names in support of the anti-persecution movement without hesitation.
A couple in their fifties or sixties approached the Falun Gong booth. The man told practitioners he had heard about the persecution and supported Falun Gong. Although he wasn't able to sign the petition because of his position in the government, he sincerely made great suggestions to help the practitioners. They thanked him and gave him a DVD of the Nine Commentaries on the Communist Party. He expressed his appreciation.
Kathie is a independent writer and photographer. It was the first time she had heard about Falun Gong. She listened carefully to practitioners' explanation and asked for printed materials. She wanted to introduce what she learned to American readers. She left her card and hoped to get more information about Falun Gong.
A man told practitioners he would like to introduce Falun Gong on his website. He asked them if he could take pictures. After getting permission, he took pictures of practitioners introducing Falun Gong.
Many people stopped at the Falun Gong booth. Some wanted to learn the practice. Some got information about the persecution. Ralph told practitioners that he had practised Falun Gong before. He had found Zhuan Falun on the Internet and learned the exercises from the online video. He had practised for over a year. He didn't find any group exercise site and hadn't practice in recent months. He was extremely happy to see the gold "Falun Dafa" banner. He was excited to tell about his experience. When he started doing the exercises, he felt his body react and said it was a miraculous experience. When he heard about the group exercise site in Forest Park, he kept saying, "Wonderful!"
Within an hour, two Americans told practitioners that they had learned Falun Gong from the Internet but hadn't found a group exercise site. They left their phone numbers, hoping to join the group exercise and Fa-study.
Many people of different ages and backgrounds said they would like to learn Falun Gong. A middle-aged couple took introductory materials. They came back after a while and said they would like to learn it right away. They learned all five exercises and felt strong energy. They looked very happy.
A young woman passed the Falun Gong booth with a beer bottle in hand. She heard about the persecution and immediately signed her name to call for an end to the persecution. She found out that Falun Gong would improve health and uplift one's spirit. She said she would like to learn. She told practitioners that she used alcohol as a relief from stress. They told her could read Zhuan Falun online because the first thing to do in cultivation was to follow Truthfulness-Compassion-Forbearance. Her eyes brightened when she heard the three words. She said, "Truthfulness-Compassion-Forbearance! I like these words!" She and her boyfriend wanted go to the group exercise on the weekend to learn Falun Gong.
A stream of people continued to visit the Falun Gong booth and sign to show their support. The golden "Falun Dafa" banner stood out in the green of Forest Park, a truly beautiful sight.
You are welcome to print and circulate all articles published on Clearharmony and their content, but please quote the source.