At dusk on July 4th, 2009, the Divine Land Marching Band took part in the Independence Day parade held in Annapolis, the capital city of Maryland. It was the first time that the Divine Land Marching Band played in the state. Annapolis is about a 40 minute drive from Washington, DC.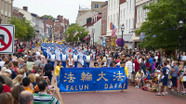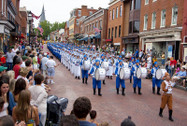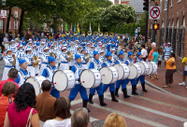 Divine Land Marching Band in the Independence Day Parade in Annapolis, MD
The Falun Gong contingent composed of the Divine Land Marching Band and a group of waist drummers. The Divine Land Marching Band was 150-members strong and performed "Falun Dafa is Good", "Fa Rectifies the Universe", "Fa Drums and Fa Trumpets Shaken the World in Ten Directions", "Falun Gong Holy King", and "America the Beautiful". The band was enthusiastically applauded and cheered.
Many residents from neighboring small towns made special trip to Annapolis to watch the parade. Mr. Brown, resident of Burne brought several children and friends and other family members to come to watch the parade. He said, "It's the best parade that I've ever seen here."
You are welcome to print and circulate all articles published on Clearharmony and their content, but please quote the source.