Six key production staff of Shen Yun Performing Arts were denied entry visas into Hong Kong six days before the show is scheduled to début in the Chinese autonomous region on January 27. Organisers of the performance declared that the show would be cancelled as a result of the visa refusals by the Immigration Department of the Government of Hong Kong Special Administrative Region.
Shen Yun, a New York-based performing arts group, was invited by the Hong Kong Falun Dafa Association, and local bureaux of New Tang Dynasty Television and The Epoch Times, to give seven performances from January 27 to January 31 in Hong Kong. According to the presenting organizations, tickets for all seven shows were sold out within the first week of sales. Shen Yun is known for depicting the traditional Chinese culture that was suppressed during the Cultural Revolution, as well as messages of hope about ending the persecution of Falun Gong, a spiritual practice that has been suppressed in China since 1999.
On January 22, the Immigration Department denied entry visas for seven of the 96 artists and staff on account of alleged incompatibility with Hong Kong labour laws. After multiple requests from the presenters, the Immigration Department granted a visa for one additional artist, leaving the company short of six production staff.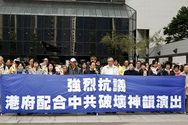 Albert Ho Chun-yan, a lawyer working with the presenters, speaks at a press conference on January 23, 2010.
Albert Ho Chun-yan, a lawyer working with the presenters to seek visa re-evaluations, said that the Immigration Department knew that it would be impossible for Shen Yun to perform without the six production staff. The individuals in question have worked with the group for many years, and handle highly specialized technical duties as well as coordinate the entire company. Ho, also chairman of the Hong Kong Democratic Party, says that it would be impossible to find local replacements that are qualified.
"These production staff have accompanied the performing group to various countries for performances. They are an indispensable part of the performing group," he said.
Reason for the Visa Denials
Although presenters applied for the visas back on October 13, the denials came only a week before the opening show. Given the late decision, there is no time to file a lawsuit. Ho believes the last minute denials were intentional and politically motivated.
According to Ho, the Immigration Department may be acting under pressure from the Chinese Communist Party to prevent Shen Yun from performing in Hong Kong. Ho suspects that the authorities' strategy was to stall the visa approval process for as long as possible and then deny the visas of key staff.
"I believe this was a political decision made by the higher ups from the beginning," Ho said. "It could be interference from the Hong Kong and Macao Affairs Office or Liaison Office of the Central People's Government in the Hong Kong Special Administrative Region."
"Any organisation related to Falun Gong will encounter many troubles when trying to hold an event, and anything can happen. Hong Kong is catastrophic [in this regard] and the Immigration Department is one of the disaster areas, a complete failure of the one country, two systems," Ho added.
Hong Kong District Council Member: Indignant to Hong Kong Government's indecent means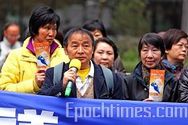 District council member Chui Pak-tai (holding microphone) condemns Hong Kong government's interference of the Shen Yun performance and suppression of freedom of speech.
Council member Chui Pak-tai of Hong Kong's Wong Tai Sin District said, "The government has no reason to deny visas to the Shen Yun production stuff. The visa denial damages the whole show and is suppression of freedom of speech. How can the government use such means to exert pressure on people?"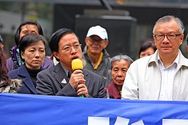 Former Sai Kung District council member Lam Wing-yin wishes that Hong Kong officials would do things with conscience.
Former Sai Kung District council member Lam Wing-yin said, "It has been more than ten years since Hong Kong returned to China's control. The Hong Kong system remained unchanged for 50 years, including in our freedom, culture, art and life style. Only in this way could we tell if China is moving towards a progressive and open country. Unfortunately, what we see are many forms of suppression, including in the political system, culture, and media. All of these forms of suppression can lead to the backward movement of Hong Kong and make it the same as any city of China."
Veteran media figure: affecting the free communication between Hong Kong and other countries

Hong Kong veteran media figure Ching Cheong
Hong Kong veteran media figure Ching Cheong said, "This time Shen Yun Performing Arts' coming to Hong Kong is not smooth. I hope that Hong Kong's people treasure a free society. I don't like to see the freedom and international exchange affected by political factors. I hope more people pay attention to the incident and help safeguard freedom."
Support from the U.S.
Gus M. Bilirakis, a member of the U.S. Congress, got wind of the visa denial soon after it took place and drafted a letter to the Director of Immigration in Hong Kong and the Commissioner for Economic and Trade Affairs on the same day, January 21.

Gus M. Bilirakis, a member of the U.S. Congress

The letter from Gus M. Bilirakis
Having just seen Shen Yun Performing Arts at Washington DC's renowned Kennedy Centre, he described Shen Yun as "marvellous," writing, "I feel that Hong Kong too, can benefit from watching a performance of this calibre."
In the letter, he continued to say that Shen Yun is the "world's premier Chinese dance and music company" and an "outstanding multicultural example of our country and we are very proud of it.
"I urge you to take action and approve the remaining 6 visas and encourage your government to prevent interference of Shen Yun performances in Hong Kong," Mr. Bilirakis wrote.
Albert Ho said he could understand the feelings of the local organisers. "Of course they don't want to give up since they've done a lot of work and tickets sold well. The audience would [also] be very disappointed."
You are welcome to print and circulate all articles published on Clearharmony and their content, but please quote the source.