On the first weekend of the Chinese New Year, 135 Chinese tourists in Paris chose to quit the Chinese Communist Party (CCP) and its affiliated organisations.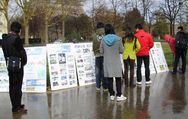 Chinese tourists learn about the persecution of Falun Gong near the Eiffel Tower
There are many volunteers at the Service Centre for Quitting the CCP. Among them, Mr. Cheng comes to the Eiffel Tower three times a week to help people withdraw from the communist organisations. Ms. Xing, in her 70s, goes there six days a week to distribute Falun Dafa materials and tell people the facts about the persecution in China.
The first weekend of the Year of the Tiger in Paris was cold. The volunteers talked to twenty buses full of Chinese tourists, almost 1000 of them, and gave them New Year's well wishes.
The volunteers gave out all the materials they had to the Chinese tourists. A hundred and thirty-five of them chose to quit the CCP and thanked the volunteers.
Mr. Hua from Beijing told the volunteers how moved he was, "I saw you here last year. Your persistence in telling Chinese people of what has happened to Falun Gong is amazing. You are doing the most sacred thing. Thank you."
Mr. Chen from Beijing, after learning how the CCP persecuted Falun Gong practitioners in China, exclaimed "Bring down Jiang Zemin!" and quit the CCP with indignation.
A volunteer told the tourists how the CCP had caused moral degeneration in the society in China and how following the CCP could bring bad luck. A Party secretary from Zhejiang Province and his friends agreed to quit the CCP and read the Nine Commentaries on the Communist Party.
One woman tried to threaten the volunteers to prevent them from doing their work. She yelled at the volunteers and was about to kick their table when two armed French patrol police officers walked directly to her, she immediately became dumbfounded. Seeing this, many of the tourists understood how the CCP extended its violent influence overseas. Many of them came to quit the CCP the next day.
You are welcome to print and circulate all articles published on Clearharmony and their content, but please quote the source.