The New York-based Shen Yun Performing Arts delighted and amazed audiences at the RAI Theater in Amsterdam, Netherlands for three shows on March 5-7, 2010.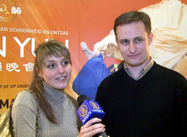 Pavel Mulyav attended the performance of New York-based Shen Yun Performing Arts at the RAI Theatre in Amsterdam with his wife, Iryna.
Pavel Mulyav, a patent attorney, attended the show with his wife Iryna, a bank risk manager and a long-time avid dancer.
The couple said that the show far exceeded their expectations. "We were positively surprised," she said, with Mr. Mulyav, adding, "It's very traditional ... you don't see many traditional dances nowadays."
His wife noted, "There are many people involved ... very nice music. So it's really great, and nice, and beautiful."
Mrs. Mulyav, who has been dancing since she was a child, said that she has a keen and refined sense of dance, as an art form.
"I was 20 years on the scene and I'm really very picky in what I see in dance. So today I'm really pleased that there are a lot of traditional, interesting compositions."
Mrs. Mulyav mentioned that she and her husband share a passion for exploring and understanding different cultures from around the world. "This performance really allows us to travel to China ... we are travelling through the country. This is what is interesting," she said.
Comparing the quality of the theatre performances that they've been used to seeing, Mr. Mulyav said, "This show is something completely different! We like it!"
Mr. Mulyav concluded by saying that if Shen Yun comes back to the Netherlands, he and his wife would definitely attend the show. "It's very traditional. It's wonderful. We definitely are going to tell others and also express our gratitude," he said.
Former dancer says Shen Yun is "sublime"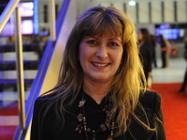 Angela Ruitenschild, a former dancer and currently a psychotherapist
Angela Ruitenschild, a former dancer who works as a psychotherapist, described her overall impression of the show, "Fantastic!"
Regarding the animated backdrops and the way they help to tell the story, she said, "How this works is sublime."
She also said that the colours were "very impressive" and "beautiful," adding, "It attracts me enormously. It is really captivating."
As a former dancer, Ms. Ruitenschild noted the skill and discipline that went into each performance, saying, "I think it's really, really beautiful. I find it really very impressive. The story behind it is also very captivating," she said.
She really enjoyed the various ethnic groups portrayed in the different performances, saying, "Very unique, every time something different."
Entrepreneur: "Do it! It's a must for sure!"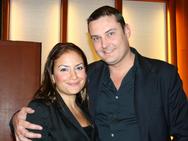 Mr. and Mrs. Pascal Zuidwijk attended the Saturday night show
Also in attendance was Mr. Pascal Zuidwijk, a successful entrepreneur who took his wife to Shen Yun for her birthday, because she "loves dancing a lot."
He described the overall show as "very impressive," saying that the costumes were, "very beautiful."
Describing the dance sets, he said, "I find it really beautiful and impressive."
He was very excited to find that there was live music accompanying the dancers. He thought to himself, "Is it really live?" Then he discovered, "Yes, it is really live!"
When the topic of the show's animated backdrops came up, he described them as "beautiful" and appreciated how they "go along with the scene."
He highly recommended that others see the show, saying, "Do it! It's a must for sure. It is renewing for a theatre of the Netherlands. Absolutely, do it! "
Source: http://www.theepochtimes.com/n2/content/view/30886/
Source: http://www.theepochtimes.com/n2/content/view/30885/
Source: http://www.theepochtimes.com/n2/content/view/30888/
You are welcome to print and circulate all articles published on Clearharmony and their content, but please quote the source.