On 13 May 2010, Austrian Falun Dafa practitioners held activities in front of the Cathedral at Stephansplatz, a famous tourist attraction in the centre of Vienna, to celebrate for the 11th World Falun Dafa Day and also the 59th birthday of Master Li Hongzhi, the founder of Falun Dafa.
Celebrating Falun Dafa Day
On the day of the activities, it was sunny and full of tourists. The peaceful Falun Gong exercise demonstration attracted many tourists and local residents. People came one after another to ask about Falun Dafa and the persecution against the practice by the Chinese Communist Party (CCP). Many tourists asked for the contact information so that they could learn Falun Gong when they got home.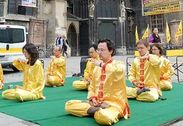 Falun Dafa practitioners meditating at Stephansplatz in the centre of Vienna.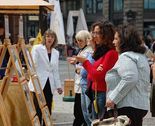 Passers-by are looking at the photos attentively.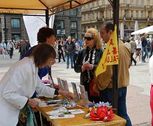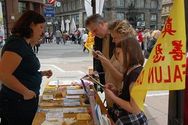 Passers-by stop to find out more about Falun Dafa.
Passers-by sign the petition to support Falun Dafa.
A small chorus, consisting of some Falun Dafa practitioners, sung the songs "Falun Dafa is Good" and "Pudu", as well as others about Falun Dafa produced by themselves. The songs echoed in the square for long time.
The square was also a good place for children. An information desk was prepared specially for children to learn how to fold paper Lotus flowers and do Chinese calligraphy. This attracted a big group of passers-by, not only children but people of all ages.

Helga would like to tell everyone she knows, the beauty of Falun Dafa.
Helga is a Falun Dafa practitioner in Vienna. She started practising Falun Dafa two years ago. She told the reporter: "I had tried other kinds of Qigong before, then later I heard of Falun Gong and got to know that this is to cultivate both mind and body based on the principles of Truthfulness, Benevolence and Forbearance. It cannot be measured by cost. Actually this is what I have been looking for in my life. Moreover people always want to go back home. Falun Gong offers me a way home. Since cultivating I have been in good shape all the time and I have never got sick. I am telling everyone I know the beauty of Falun Dafa."



After three months of cultivating Falun Dafa, Angela's hayfever completely disappeared.
Angela has travelled to over twenty countries following her husband's career. Two years ago she moved to Vienna. She started watching TV programmes on NTDTV and after a while she learned about the persecution of Falun Gong in China. Later she thought to have a try and started cultivation. She said: "I had hayfever for 15 years. It was worse this time of year. I had injection treatment for 15 years. Later doctors all said there was no way to treat it, and the medicine did not work. But when I had practised Falun Gong for only three months, my allergy was completely cured. I never got it back. And also my temper is getting better and better. I am no longer angry at my husband or children. When they get angry, I am not angry, I am smiling."
You are welcome to print and circulate all articles published on Clearharmony and their content, but please quote the source.