LOUVAIN-LA-NEUVE, Belgium--Ms. Kristina László wanted to see Shen Yun after attending a reception in Parliament promoting the show. She and her mum, Ilona, attended in honour of her mother's 60th birthday. The ladies loved the show and thought Shen Yun was a great way to mark the occasion. Ms. László said joyfully, "We celebrated like this."
With her daughter translating Hungarian for her, Ilona was excited to share that the show touched her heart. She said she will "always remember it."
Ms. László said that she and her mom both felt that Shen Yun was just beautiful. "What I appreciated most [is] it's really expressive, so you can see, really, the feelings," she said, speaking of the dancers.
Ms. László's mom, Ilona, was especially moved by the two pieces which dealt with persecution in contemporary China, including Nothing Can Block the Divine Path, in which the heavens are watching as a mother and daughter hold fast to their beliefs and to each other, in the face of spiritual persecution. As a survivor of communism in Hungary, Ilona wanted to talk about the meaningfulness of Shen Yun, and how Shen Yun had really touched her heart. With her daughter translating for her, Ilona said that how she felt after seeing the dances depicting persecution was "that the most important thing is that everybody has to live, inside, so whatever happens outside, the most important is what you have inside ... and what you give to your children and to your family."
"And so," her daughter said, "that's what she received from the show, that even if there is oppression, the most important is that to stay yourself."
Ms. László agreed with her mother, adding, "China has a very rich culture ... and everybody has to get to know it, and I hope that it won't be oppressed so long."
Her mother wanted to add one more thing. She said, "We are very happy that we could get to know a part of the Chinese culture-and [how it was depicted] very well and perfected by the music and dance."
When asked how she felt receiving this as a gift from her daughter, Ms. László's mother, Ilona, said with warmth, "It's a beautiful souvenir."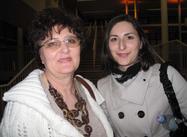 Ms. Kristina Laszlo brought her mother to see Shen Yun perform at the Aula Magna.
"This is wonderful"
Mr. Duwelz describes himself as a true "Bruxellois". He was born in Brussels and has lived there for over 70 years.
After seeing Shen Yun, Mr. Duwelz said that besides the beauty in the show, he also saw how it is to live in China today.
"Today, whatever you may think or say, whatever is written in newspapers, we know that there is a lack of truth," Mr. Duwelz said.
"And in this show, we have been told what truth is, about these Chinese people who are forced to leave their homes to live a different life, far from the threats and the torture, because unfortunately, it is still that way in China today."
Referring to the two programmes portraying the persecution of Falun Gong in China, Mr. Duwelz noted that they end with "light and joy".
"Because we can feel with precision that these people are suffering, but still keeping an extraordinary belief in Heaven, and this is wonderful," he said.
There is always hope, he added.
"Into the light, into the light, absolutely!"
Explaining further, he said, "I mean, directly in the first scene, where we can see the Heavens open and this carriage approaching, we understand immediately that this is the faith in which Chinese, and probably all human beings, are finally rooted."
And he could deeply relate to do that.
"Even for us in Belgium, we don't suffer the same thing, but of course we remain faithful in our beliefs which can bring us delight even in the middle of adversity," he said.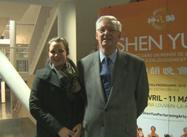 Claude Duwelz and Charlotte Chirch after watching Shen Yun.
Sources:
http://theepochtimes.com/n2/content/view/35025/
http://theepochtimes.com/n2/content/view/35057/
You are welcome to print and circulate all articles published on Clearharmony and their content, but please quote the source.