Asian Pacific American Heritage Month in Philadelphia was celebrated at Franklin Square near China Town on May 22nd, 2010. The event started at 11 a.m. and ran until 5 p.m. Even though it rained now and then, it didn't dampen the spectators' enthusiasm.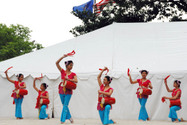 Metro-Philadelphia Minghui School students performed "Falun Dafa Is Good" on the waist drums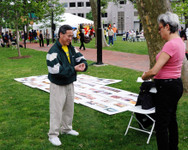 Linda learning a Falun Gong exercise at the Falun Dafa booth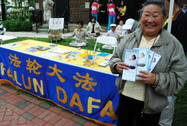 Falun Dafa booth at the Asian Pacific American Heritage Month celebration in Philadelphia
To recognise Asian Americans' contributions and achievements, Governor Edward Rendell recognised May as the "2010 Asian Pacific American Heritage Month." Chinese, Cambodians, Koreans, Filipinos, Indians, and Indonesians, Japanese, Thais, and Vietnamese joined the celebration and performed their traditional dances on the stage in Franklin Square. Falun Dafa practitioners set up a booth to introduce Falun Dafa at the event every year.
Students from the Metro-Philadelphia Minghui School performed the lotus dance and played the waist drums. The audience watched the students dance to the music of "Falun Dafa Is Good." When the waist drum performance ended, the Emcee asked, "Wasn't that beautiful?" The audience members gave them enthusiastic applause and voiced their approval.
Linda heard about the persecution of Falun Gong near China Town ten years ago and felt very sympathetic toward Falun Gong practitioners. She used to practise Tai Chi. This year she came to the booth to learn Falun Gong. After learning the exercises, she said she felt very relaxed and bought a copy of Zhuan Falun.
According to the Congressional Library, there are severals reasons to select May as Asian Pacific American Heritage Month. The first contingent of Japanese immigrants arrived in America on May 7th, 1843. The first transcontinental railway was completed in May of 1869. Many who worked on that railway were from China. President Bush first recognized May as Asian Pacific American Heritage Month in 1990 by extending a one-week event to a month-long event. Two years later, Congress passed a law declaring May "Asian Pacific American Heritage Month."
You are welcome to print and circulate all articles published on Clearharmony and their content, but please quote the source.