A last minute change of venue could not deter Shen Yun Performing Arts as the New York-based company continues its 2010 World Tour. It is making history while delighted audiences around the globe bear witness as the artists resurrect China's ancient culture.
Through the universal language of classical Chinese dance and music, the performers share ancient legends from 5000 years of rich history as well as contemporary stories currently unfolding in China.
When Megaron, Athens' concert hall, was closed to the company, Shen Yun performed at the Badminton Theatre. The first performance on Thursday night, June 3, received an enthusiastic response from the audience, with rounds of applause for the performers. The Shen Yun Touring Company Orchestra accompanied the dancers, adding another artistic dimension through its unique blend of Chinese and Western instruments.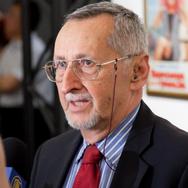 Michael Ghiolman, president of Ghiolman Yacht Company.
Michael Ghiolman, president of Ghiolman Yacht Company, attended Shen Yun with many of his friends. Established in 1885, the Ghiolmans formed Greece's first travel agency and for three generations have pioneered the yachting industry and developed close business associations worldwide.
Mr. Ghiolman found Shen Yun "really fantastic" and praised it highly several times, exclaiming, "and all my friends who were with me were really shocked and touched. It was very emotional."
Two of the stories in the performance depict a current struggle in mainland China, where the peaceful practice of Falun Gong is being persecuted. The audience was aware that the show had been made unwelcome at the Megaron, which, according to the hosting Falun Dafa Association, was due to pressure from the Chinese Embassy in Athens. This simply served to underline the truth about the serious human rights violations still taking place under the communist regime in China.
Mr. Ghiolman, who already has a good knowledge of Chinese culture, commented, "It reminded us of the old cultures and civilizations of China." The show embraces different ethnicities, from the Mongolian plains to the Tibetan plateau in the Himalayas, as well as the Miao, one of China's oldest ethnic groups.
Both Mr. Ghiolman and his friends were impressed by the artists' talent, and he enthused, "The dancers were something unbelievable!"
On the attempt to stop the show, Mr. Ghiolman said, "The boycott of the show and having to change the venue--that was not really good for us. The Mayor of Athens and the ministers supported the show and Falun Dafa. They know a lot about this."
Source:
http://www.theepochtimes.com/n2/content/view/36823/
You are welcome to print and circulate all articles published on Clearharmony and their content, but please quote the source.