On July 20, 2010, a group of people were seen across from London's Houses of Parliament practising meditation exercises. They were UK Falun Gong practitioners who, by means of doing the exercises and distributing leaflets, were calling upon the British government and society to help stop the persecution of Falun Gong by the Chinese Communist Party (CCP). They want to rescue their friends and relatives illegally detained by the CCP.
On July 20, 1999, the CCP launched a massive, brutal persecution of Falun Gong in China. On that day, a group of Falun Gong practitioners rallied in front of the Parliament Building in London, calling upon the British government to urge the CCP to stop its persecution.

UK Falun Gong practitioners do the exercises in front of the British Parliament Building.
Drawn by the peaceful music and the practitioners' exercises, many passers-by stopped to watch. Behind the practitioners doing the exercises, other practitioners held up display boards showing photographs of some of the 3,397 practitioners who are verified to have died as a result of the persecution. Other practitioners held up banners that read, "The World Needs Truth, Compassion and Tolerance", "Falun Dafa: a Traditional Practice to Improve Physical and Spiritual Well-Being", "A Decade of Killing Must End", "Please Help Stop the Persecution of Falun Gong", "Dissolve the Chinese Communist Party, End the Persecution" and so on.
A small table held leaflets and material about Falun Gong. There were also signature books on the table, calling for people to sign their names in order to urge the British government to help stop the CCP's persecution and to rescue the relatives and friends of Falun Gong practitioners who were illegally arrested and detained by the CCP. In the flower baskets, there were many colourful hand-made paper lotus flowers. Hanging beneath each of the paper lotus flowers was a small bookmark that read, "Truthfulness, Compassion and Tolerance" and "Falun Dafa Is Good!"
At about 1 p.m., the practitioners held a press conference at Parliament Square. Speeches were made by Mr. John Dee, Vice Chairman of the European Friends of Falun Gong, representatives from the UK Falun Dafa Association, as well as practitioners who had been persecuted in China and who were rescued through help from overseas. Ms. Annie Yang choked up in tears several times when she talked about her own experience of being arrested and detained in a forced labour camp in China, and how fellow practitioners were still suffering in China.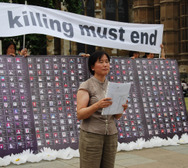 Practitioner Annie Yang talks about her first-hand experience of suffering persecution.
Several Members of the European Parliament and British Parliament sent letters of support. MEP Ian Hudghton thanked the practitioners for their efforts and encouraged them to hold more such activities in the future. MEP Hudghton wished success for the event and expressed his best wishes for the organizers.
MEP Claude Moraes expressed in his letter that the violations of human rights against Falun Gong cannot be tolerated. He expressed his shock and outrage at the persecution, and commended the practitioners' efforts to raise awareness.
MEP Andrew Brons held that the persecution of belief is entirely unacceptable, no matter where it happens.
MP of the British Parliament Richard Harrington expressed in his statement that the parents of one of his constituency was detained in China for their belief in Falun Gong, on which he had written to the British Foreign Minister. He and his colleagues are very concerned and have raised this issue regularly to the Chinese government. He wrote that he had been particularly concerned about reports of practitioners being detained in forced labour camps.
MP of the British Parliament John Hemming also expressed that he had written to the British Ministry of Foreign Affairs regarding the violations of human rights against Falun Gong.
At 4:00 p.m., hosted by British MP Julian Huppert, a seminar on the issue of Chinese human rights and the persecution of Falun Gong was held in the British Parliament Building. Talks were given by representatives of Falun Gong, practitioners who have personally experienced the persecution, and Chinese human rights experts.
Ann from Australia, a passerby, said with tears in her eyes, "It's too horrible. This persecution should never have happened!" Ann said that she would visit Falun Gong websites to find out more information and that she would tell her relatives and friends about the persecution. She said, "The more people know about the persecution, the more helpful it will be to stop the persecution."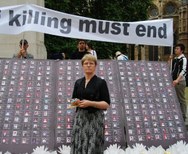 Ann from Australia.
Priscilla from Brazil expressed that she had heard about the CCP atrocities of harvesting organs from living practitioners. She signed her name on a petition to express her support for the practitioners' efforts against the persecution.
Yodi, from the Netherlands, said after signing the petition, "This is terrible, too crazy. Activities of this kind are very important. You should let more people know about this."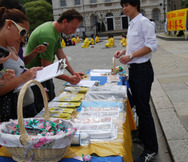 Yodi (in green) signs the petition to help end the persecution.
Mr. Zheng, who is a Chinese visiting student, also stopped at the event. He said that, after finding out about Falun Gong and thinking about it for several years, he had decided early this year to learn the practice. Mr. Zheng said that for a very long time, he had suffered from a serious skin disease that required him to take medicine and to change dressings or to apply medicinal lotion frequently. Now his skin disease has almost healed. Mr. Zheng added that after practising Falun Gong, he has also learned to look at things from a different perspective and become more tolerant.
Emiko, a British girl, started to practice Falun Gong about one year ago. She said, "At the beginning when I heard about the persecution, it seemed to have nothing to do with me and I could not change anything on my own. Later on when I started to learn Falun Gong, I gradually changed my view about this. Now, when I read reports about the persecution, I feel as if my family members are suffering persecution. I hope to do my best to stop it."

Practitioners hold a candlelight vigil to protest the persecution of Falun Gong in front of the Chinese Embassy in London.
Late into the night, the practitioners again went to hold a candlelight vigil in front of the Chinese Embassy in London, with lotus flowers placed and the candles lit, mourning fellow practitioners who have been persecuted to death by the CCP in China.
You are welcome to print and circulate all articles published on Clearharmony and their content, but please quote the source.