On August 7th, 2010, Falun Gong practitioners held the 2010 Falun Dafa Cultivation Experience Sharing Conference in New Zealand. More than a dozen practitioners from Auckland, Hamilton, Tauranga, Palmerston North, Wellington and Christchurch shared their cultivation experiences and understandings.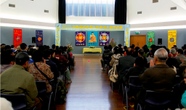 New Zealand 2010 Falun Dafa Experience Sharing Conference in Auckland
At 10:30 a.m. the Fa conference commenced on time in Pakaranga Community Centre. At the centre of the venue hung the portrait of Master Li Hongzhi and the Falun emblem. On both sides were two vertically-hung scrolls on which were the verses from "Gaining the Fa" in Hongyin (Translation Version A):
Cultivate Dafa with all your heart,
Nothing could be more important.
Become one with Dafa,
And Consummation is, in time, certain.
Practitioners who made speeches came from different backgrounds. Some had come from religious families, but spent many years with unresolved questions about life. They were overjoyed having finally found what they had been searching for. Some practitioners had recently come out of China. They talked about how fellow practitioners in their hometown have remained steadfast and continuously reached out to the public with the truth behind the persecution for the past ten plus years.
Ms. Wang from Christchurch shared how she got along well with her family and colleagues, was tolerant when encountering conflicts, and did not get upset when she was wronged. She talked about how she had been diagnosed with pancreatic cancer after coming to New Zealand. However, through elevating her heart and mind, she completely recovered without going through any medical treatment. The medical experts were amazed.
Ms. Shao from Auckland said in her speech that she had spent her spare time going to a tourist site to explain to Chinese tourists the facts about Falun Gong and the persecution. As tour guides' minds had been deeply poisoned by the lies fabricated by the Chinese Communist regime, they often forbade tourists to take informational materials. Ms. Shao then made a special effort to clarify the facts to the tour guides. These tour guides initially ridiculed her, and held misconceptions about Falun Dafa, but later they came to understand the true situation and even became supportive. One bus load of tourists after another have therefore had the chance to learn the facts.
The Fa conference, with a peaceful and compassionate atmosphere, concluded at around 4:00 p.m.
You are welcome to print and circulate all articles published on Clearharmony and their content, but please quote the source.