On the afternoon of May 20th, 2012, on the occasion of the 20th anniversary of Falun Dafa's introduction to the public, people in Philadelphia's Chinatown held activities to celebrate this special occasion. Practitioners from Philadelphia, Washington DC, New York, New Jersey, and Connecticut participated in the event.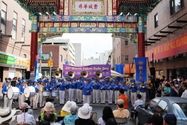 The Divine Land Marching Band performs "Falun Dafa Is Good" to kick off the celebration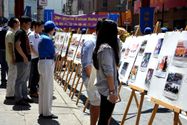 People view photo displays depicting Falun Dafa around the world and the persecution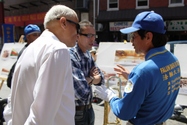 Listening attentively to a practitioner explain the facts about Falun Gong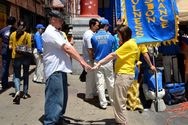 A Westerner learns to practise Falun Gong
To open the event, the Divine Land Marching Band performed "Falun Dafa Is Good." Practitioners then demonstrated the Falun Gong exercises, shared their cultivation experiences, displayed a truth clarification photo exhibition, distributed informational materials, and presented artistic performances. By holding a series of activities, practitioners displayed the beauty of Falun Dafa to the audience and also informed them of Falun Dafa's worldwide acceptance. Many people stopped to watch and learn about Falun Gong. Some of them quit the Chinese Communist Party (CCP) and its affiliated organisations, and some learned to practise the exercises at the event.
An elderly Indonesian lady canceled her gathering with friends and wanted to learn to practise Falun Gong. A family of five from the area watched the performances from beginning to end and wanted to learn Falun Gong. Some people had misunderstandings about Falun Gong due to the deceptive CCP propaganda. After practitioners explained the true situation to them, they understood and took a copy of the Nine Commentaries on the Communist Party and informational materials about Falun Gong. Some Westerners who were aware of the true situation had their photos taken with Falun Gong practitioners.
A Lion Dance was performed, and young practitioners played the violin and did the Lotus Flower Dance. The three-hour celebration concluded with the band playing "Falun Dafa Is Good." People left happy. Mr. Wu, who was in charge of the event, said that all the informational materials they had prepared had been distributed.
Government Officials Honor Falun Dafa Day
Prior to World Falun Dafa Day, May 13th, the Mayor of Philadelphia and the Pennsylvania State Senate issued proclamations to Falun Gong practitioners in the Greater Philadelphia Area, expressing their good wishes for World Falun Dafa Day. The New Jersey Senate and General Assembly also jointly passed a resolution acknowledging World Falun Dafa Day.
Philadelphia Mayor Michael A. Nutter stated in his proclamation: "Falun Dafa combines techniques in meditation with exercises that are meant to enhance health and promote general wellbeing. Rather than being encouraged, the practice was outlawed in China in 1999. In March of 2010, the US House of Representatives passed House Resolution 605 to urge the Chinese Government to end its decade-long campaign against Falun Dafa, expressing solidarity with those who were being persecuted for the practice. On behalf of the City of Philadelphia, I commend the Greater Philadelphia Falun Dafa Association for organising this event to recognize those who fight for the right to practise this teaching. You have my best wishes for a day filled with peace and my hopes for your future success."
The Senate of Pennsylvania stated in its congratulations: "The Senate of Pennsylvania takes great pride in recognising those organisations which, through adherence to the highest standard of service, contribute in a meaningful way toward a better and more productive society." "The Senate of the Commonwealth of Pennsylvania proudly recognises the Greater Philadelphia Falun Dafa Association upon this momentous occasion; extends warmest wishes for a future replete with ever-increasing success and service to the community."
Member of the United States Congress Hon. Robert E. Andrews of New Jersey stated in his proclamation: "Hereby recognises the importance of World Falun Dafa Day by celebrating the triumph of Truthfulness, Compassion, and Tolerance, while at the same time, commemorates the thousands of Falun Dafa practitioners who have lost their lives in the peaceful defense of human rights and freedom of belief."
The Senate and General Assembly of the State of New Jersey jointly passed a resolution acknowledging World Falun Dafa Day.
Physical and Mental Benefits from Practising Falun Dafa; Calling for People to Help Stop the Persecution
Ms. Tao Ming shared her cultivation experiences and the persecution she endured at the hands of the Chinese Communist Party (CCP). She said that after becoming a practitioner, the illnesses that had plagued her for years disappeared. But after the persecution started in 1999, she was imprisoned for four years for remaining steadfast in her belief in Falun Gong. She was physically abused and tortured, and once she was tied to an iron chair for 30 days. She encouraged people to not listen to the CCP's lies and to work together to end the persecution.
Nina's son introduced her to Falun Gong, and she began practicing it more than ten years ago. She said, "I came from former Soviet Union. I used to suffer from arthritis and many gynecological problems. After I started to practise, these illnesses disappeared. In particular, I've learned to look within to cultivate my heart, and whenever encountering any problem, I search inward to find where I am wrong, not finding fault with others. So my life is full of joy."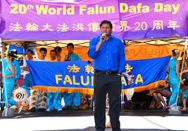 Alex shares his cultivation experience
Western practitioner Alex said, "After practising Falun Gong, my relationships with my family and colleagues improved, and my practice has also helped me in my work. I'm a businessman and often travel on business. I've been to many countries, and wherever I go - Europe, South America, North America - I see local people practising Falun Gong. I've spoken with many people about my cultivation experience and the ongoing persecution in China. No one agrees with the persecution, and everybody believes that practising Falun Gong is a good thing. They all call upon the CCP to stop the persecution of Falun Gong. I hope everyone here will help to stop the persecution."
Being Aware of the Truth and Learning Falun Gong
Ms. Zeng, a Chinese overseas student at Drexel University, said that she didn't have a good understanding of Falun Gong when she was in China because of the CCP's brainwashing. After she came to the US and learned the truth, she quit the CCP organisations. She said, "It's the first time I've taken part in a large-scale Falun Gong activity. I find Falun Gong is indeed a peaceful practice. I may practice it in the future."
Louis Philipson's family invited their friend's family to lunch in Chinatown and saw Falun Gong practitioners' commemorative activities. Mr. Philipson held a copy of the informational materials about Falun Gong and explained to his friends what he had learned about Falun Gong. He said, "I know Falun Gong [practitioners] do the exercises and meditation to become a better person. There is nothing wrong with that, but the Chinese government persecutes them. Everyone should have the right to his or her own belief. I'm glad they gather here. I extend to them my best regards."
Mr. Peebles and two friends passing by Chinatown enjoyed watching practitioners' performances and exercise demonstration. Mr. Peebles said, "The wonderful performances we saw today embody traditional Chinese culture. But such a peaceful meditation practice - why isn't it allowed in China?" He and his friends took flyers about Falun Gong and said they would go get online to find out why.
Learn the Truth and Quit the CCP Organisations
An elderly man gladly renounced his membership in the CCP organisations and said that he had been deceived by the CCP his whole life. He had learned that the CCP had done so many deeds and that, sooner or later, it will experience retribution! He finally broke away from the CCP.
A man quit the Young Pioneers, one of the CCP organisations, and said that his father, in his 80s, is still in China. He said he would definitely tell his father so that he no longer hold any illusions about the CCP and that he would also quit the CCP organisations.
A lady readily quit the CCP organisations and said, "I read the Epoch Times newspaper weekly, so I know about the persecution. Thank you!"
You are welcome to print and circulate all articles published on Clearharmony and their content, but please quote the source.