The 35th Spring Health Expo was held on March 2-4, 2012 in Katowice, a southern city in Poland. Falun Gong practitioners were invited to participate in the event. Many Polish people who came to the Falun Gong booth had become familiar with the Falun Gong group and warmly greeted them. Many people told the practitioners that they had learned about Falun Gong on the Internet, and they were indignant about the persecution. They wanted to sign the petition one more time to oppose the Chinese Communist Party's (CCP) persecution and express their support for Falun Gong. There was often a long line of people waiting to sign the petition.
Expo visitors sign a petition to oppose the persecution of Falun Gong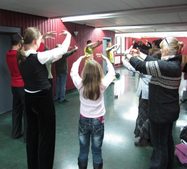 Visitors learn to do the Falun Gong exercises
Many people shared their experience and understanding of reading the book Zhuan Falun, and most of them felt it opened a door into a whole new world, which they had never known, and never heard of, which also led to many questions. A lady had a long conversation with a practitioner on various topics such as the principle of "committing to one discipline". The practitioner suggested that she read other Dafa articles published on Falun Dafa's Polish website, and encouraged her that as long as she keeps reading them, she will come to understand. The practitioner also encouraged those with a lot of questions to contact local practitioners to discuss and share understandings their of the teachings.
Although they had downloaded exercise instruction DVDs and music on their own, many visitors were glad to get personal instruction on the exercises during the expo. They also left their contact information so that they could be informed about local exercise sites. Many people bought copies of Zhuan Falun, and practitioners took this opportunity to present visitors with a beautiful handmade paper lotus flower, attached to a bookmark with message "Falun Dafa is good" and a brief introduction to Falun Dafa's main book Zhuan Falun in Polish.
During the expo, practitioners made a speech at a conference room to introduce Falun Dafa to the audience. Many people approached the Falun Dafa booth to ask for related informational materials after attending the speech. Practitioners prepared Falun Dafa flyers in Polish, English, German, French and Chinese, and specially-made print materials with detailed introduction to Falun Dafa, so that more people would have a better understanding of Falun Dafa.
You are welcome to print and circulate all articles published on Clearharmony and their content, but please quote the source.