St. Martin's Place, located in the centre of London near Trafalgar Square, is not only very busy but has for many years also been an important location for Falun Gong practitioners in the UK to talk to people about the practice and the human rights abuses that Falun Gong practitioners are suffering in China.
On Saturday, June 9, 2012, UK practitioners gathered in St. Martin's Place to demonstrate the Falun Gong exercises and raise people's awareness about the persecution. For the whole day, many people from around the world passed by. Some immediately announced that they would like to learn the practice, while others who had heard of Falun Gong before took this opportunity to learn about it in-depth.
| | |
| --- | --- |
| | |
| In St. Martin's Place, people who have learned the facts about Falun Gong sign a petition to protest the persecution | Every Saturday Falun Gong practitioners demonstrate the exercises in St. Martin's Place and raise people's awareness about the persecution |
| | |
| Having watched practitioners do the second exercise, Frank decided to learn Falun Gong | Many people came to find out more |
Frank, an African-born Englishman, was an engineer before he retired. As he was walking through St. Martin's Place, practitioners were doing the second exercise. He stood there watching for a long time, then found a practitioner distributing leaflets and asked if he could learn to practice Falun Gong. He said, "I know it is difficult to stand there still for just one minute, but they (the Falun Gong practitioners) are able to keep standing for so long. That means that this practice is certainly unusual. I think this can make people relax, although I know this is not easy to do so, I must have a go." After being given information about the location of the London practice site, Frank told the practitioner that he would go to the park and learn the practice the coming weekend.
John, a Frenchman, is with a company's sales and marketing staff and has been working in London for six years. On this Saturday afternoon as he was hurrying through St. Martin's Place, for the first time, he saw Falun Gong. He couldn't help stopping and watching the exercise demonstration. In brilliant sunshine, the practitioners doing the fifth exercise looked very peaceful. After watching for a moment, John asked a practitioner distributing leaflets how he could learn to practice Falun Gong. He said he could feel a state of complete "peace," the kind of peace he had long been yearning for. He said that he always felt stressed and under pressure living in the current society. It was very difficult to be "peaceful," so he wanted to try to practise Falun Gong. Having learned from Falun Gong practitioners the facts about the persecution, he immediately signed the petition protesting it.
Living in London, Phil is a British citizen of Arab descent. He runs a multimedia design company. With his mobile phone, he filmed the three practitioners doing the exercises in St Martin's Place and then he asked a practitioner if he was allowed to upload the video and photos to his own social networking site. He told the practitioner that he had heard of Falun Gong before, but had not really learned the facts, but this Saturday afternoon, while carefully watching practitioners demonstrating the exercises, he suddenly had a very strong feeling. He said, "I feel it is very peaceful, sacred and harmonious; I enjoy feeling the energy, a very positive energy. I think that I should upload this video of (the Falun Gong exercise demonstration) to my Facebook page, because it is worth sharing. "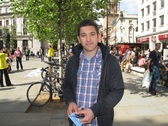 Phil is going to upload his video and photos of practitioners doing the exercises to his own social networking site
Through his conversation with the practitioners, Phil learned more about the persecution. He condemned it, saying, "It makes no sense. It is not acceptable to suppress this peaceful group."
Bettina Reiber is a German artist currently teaching in a London art school. Having carefully read the display panels, she went straight to the table and signed the petition to protest the persecution. She said, "I have heard of Falun Gong and seen practitioners protesting peacefully in front of the Chinese Embassy in England, but I didn't know that Falun Gong has spread to over 100 countries and regions in the world, nor did I know that UK Falun Gong practitioners have been peacefully protesting in front of the Chinese Embassy for 24 hours every day for a decade already."
| | |
| --- | --- |
| | |
| John, a Frenchman, decided to learn Falun Gong, and signed the petition | Bettina Reiber, a German artist, expressed her admiration for practitioners' perseverance in resisting the persecution |
Having learned the facts, Ms. Reiber expressed admiration for practitioners' perseverance in resisting the persecution, saying that they have made it possible for more and more people to understand the true situation. She said, "In fact, this is very moving. I seldom go to the area near the Chinese Embassy but every time I pass by, I have always seen someone there (peacefully protesting the persecution). Their persistence, never giving up, long-term adherence, having the public know the truth in the most peaceful way, are the most powerful ways to confront the most brutal violence. I have a lot of admiration for (Falun Gong) practitioners."
On seeing people actively and enthusiastically signing the petition protesting the persecution, Bettina further encouraged Falun Gong practitioners, saying, "What you have been doing is very good. You are helping more and more people in London know the true situation. You see that so many people passing by have signed the petition. More and more people have come to understand. Take me as an example. I did not know the facts about Falun Gong ten years ago. A decade has passed and this period of time is indeed too long to the people suffering from the persecution, but you are getting better and better through ten years' hard work and your energy is becoming stronger. So I'd say that your adherence itself is very meaningful."
Among the people passing by St. Martin's Place were many Chinese. They all stopped to watch and learn more about Falun Gong. One Chinese girl who had grown up in Sweden not only signed the petition, but also asked for some Chinese informational materials for her own parents. Two young men from mainland China that have been living in the UK for years took the initiative to talk practitioners, hoping that the practitioners could answer their questions about Falun Gong. After patiently listening to the answers, they told the practitioner, "We now understand. Thank you."
You are welcome to print and circulate all articles published on Clearharmony and their content, but please quote the source.