German Falun Gong practitioners celebrated the 14th annual World Falun Dafa Day near the town hall on Marienplatz Square in Bavaria on May 10, 2013. They also wished Master Li a happy birthday.
Falun Dafa has been embraced around the world for 21 years. The event attracted the public's attention including many tourists. Many people took flyers and informational materials, asked questions about Falun Gong and local practice sites, and signed the petition to end the persecution.
Wishing Master Li a happy birthday

Demonstrating Falun Gong exercises

People signing the petition to end the persecution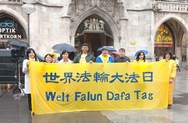 Celebrating World Falun Dafa Day
On Marienplatz Square, Falun Gong practitioners put up banners, lotus flowers and colorful balloons. Posters and photographs were also displayed showing how the Chinese Communist Party (CCP) brutally persecutes Falun Gong practitioners.
Practitioners from Munich and other places in Bavaria participated in the event. Some practitioners drove long distances to join the celebration.
Nelson, the event organizer said, "Today's event is very special. Falun Dafa has been spread around the world for 21 years. This year is the 14th World Falun Dafa Day. Falun Gong brings people good health, and shows us a way to return to one's true self. This is wonderful. Any Falun Gong practitioner will be happy to share this joy with others. Therefore, we are celebrating the special day together. Many practitioners work during the week, some live very far away, but they still have made the effort to come."
Nelson also said that although the event was a celebration, they still felt compelled to inform the public of the CCP's crime of organ harvesting from living Falun Gong practitioners. "This is everyone's concern. We must stop this inhuman persecution," he said.
Falun Gong practitioner Ms. Yang came from another city for the event. She said, "As soon as I arrived here, I felt at home. It seems that many people are waiting to learn the truth. After I told them about the CCP persecuting Falun Gong, they were shocked. They couldn't believe it is still happening. They signed the petition and showed their appreciation for our efforts."
You are welcome to print and circulate all articles published on Clearharmony and their content, but please quote the source.