On September 7-15, 2013, The Art of Zhen, Shan, Ren (Truth, Compassion, Tolerance) International Exhibition was held in Thessaloniki, the second largest city in Greece. Only blocks away, the annual Greek Thessaloniki International Fair was in full swing with crowds of people milling about everywhere.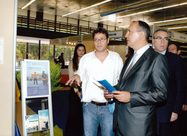 Greek Northern Minister Karaoglou Theodoros talks with exhibition staff member
People view the exhibition and sign the petition calling for an end to CCP's organ harvest atrocities
Many of the 3,000-plus visitors who attended the art exhibition were shocked to find out that the Chinese Communist Party (CCP) forcibly removes organs from living human beings. They happily signed a petition calling for an end to this barbaric crime.
Daily News Online , a Greek mainstream media outlet, carried detailed coverage of the art exhibition and Falun Gong, the practice. The event attracted a lot of attention and interest with the number of online reviews topping 5,000.
A local television station interviewed the art exhibition organizers then ran a 10-minute news special at 11p.m. every day for the duration of the exhibition. In addition, TV Channel , a local news station, provided live coverage of the event, four times a day.
Greek Northern Minister Karaoglou Theodoros attended the exhibition, along with Greek Parliamentary Members, Mr. Miltiadis Varvitsiotis and Ms. Sofia Sakorafa, and Member of European Parliament, Mr. Theodoros Skylakakis.
While standing in front of a painting titled, Organ Crimes , they listened attentively to a practitioner explain the background meaning of the artwork.
When they learned that the bloody scene they were looking at depicted a real-life story of a Falun Gong practitioner having his organs forcibly removed, and that the CCP routinely commits these organ harvesting crimes against Falun Gong practitioners in China, they were visibly shocked. Some of the officials said that they had never heard about these atrocities before.
About 10 artists from the Northern Greece Art Association also attended the exhibition. The president of the association wrote in the guest book: "I would like to express a very warm greeting and congratulations to the Truthfulness-Compassion-Forbearance International Art Exhibition. The quality of the artwork is superb. I enjoyed the positive energy emitted from the paintings."
You are welcome to print and circulate all articles published on Clearharmony and their content, but please quote the source.