ATHENS, Greece--A wonderful Mediterranean mild evening and a warm response from the audience has welcomed the first performance of the Shen Yun Performing Arts Touring Company to Athens, Greece on Thursday, June 3.
Lola Dafae, the public relations manager of Star Channel, a large Greek TV broadcaster, attended Shen Yun at the Badminton Theatre.
Ms. Dafae enjoyed Shen Yun, "very much" because, "I admire their civilisation," she said.
"I like the Chinese culture very much and the colors of the civilization ... and the movements of the dancers."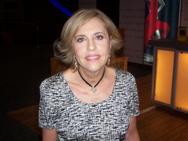 Lola Dafae, the public relations manager of Star Channel.
"I like the movements and the way they move altogether and have the team spirit, ... they have the very same movement, the same way to express their sentiment," said Ms. Dafae.
Ms. Dafae was referring to the way all the dancers work in unison in breathtakingly beautiful choreographed dances, accompanied by an orchestral fusion of Western and Chinese instruments like the suona and the pipa.
When asked about the biggest impression she got from Shen Yun, Ms. Dafae said, "The tale of every part of the show, because they are fairy-tale-like, it's lovely because you can understand the mentality of the people who live there."
Ms. Dafae also commented on the Chinese singers with piano accompaniment, and the translation on the backdrop for the audience to understand.
"The songs didn't talk about love, but they make people think, more spiritual, think about life, about death, it's the truth," she said.
Ms. Dafae thinks everybody in Greece "waits for a traditional Chinese show to learn something about China, about the tales, about the country."
Ms. Dafae has already told four actors she knows that they shouldn't "lose this [opportunity to see Shen Yun] because I believe it will be nice!"
Source:
http://www.theepochtimes.com/n2/content/view/36785/
You are welcome to print and circulate all articles published on Clearharmony and their content, but please quote the source.