"We want to tell people about the human rights abuses of Falun Gong practitioners in China. It is a really good opportunity as a lot of media attention focused on the Chinese prime minister's visit," said British Falun Gong practitioner Lee Hall, who participated in a peaceful protest across from 10 Downing Street on June 17, 2014, where British Prime Minister David Cameron received his Chinese counterpart, Li Keqiang.
The practitioners' protest, which condemned the Chinese Communist Party's (CCP) persecution of Falun Gong and the CCP's atrocity of forced organ harvesting from living Falun Gong practitioners, has garnered support from the public. A number of people spoke out to protest the persecution and to call on the British government to consider human rights first when dealing with China.
The practitioners called for bringing former Chinese President Jiang Zemin and other perpetrators of the persecution to justice. They also encouraged more Chinese people to learn about Falun Gong and the CCP's crimes, and renounce the CCP and its affiliated organizations.
| | |
| --- | --- |
| | |
| Falun Gong practitioners hold a peaceful protest against the persecution in front of the British Prime Minister's office during the Chinese Prime Minister's visit | Signing the petition against forced organ harvesting near 10 Downing Street |
Human Rights Activist: Reminding the British Government Not to Compromise on Human Rights When Dealing with the Chinese Communist Regime
Ms. Georgina Halford-Hall, an ardent campaigner for civil rights, is a trustee of the civil rights organization Whistleblowers UK.
Ms. Halford-Hall expressed her support for the practitioners during their protest at 10 Downing Street on June 17. "I think it is really important that you protest and bring this issue to the world's attention. It [the persecution] is a crime against humanity. People have had their voice and their rights to protest. No way can China be seen as a country that belongs anywhere in the security of the whole world when it is persecuting its own people."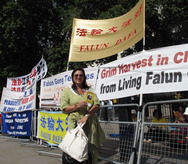 Ms. Georgina Halford-Hall speaks out to support Falun Gong practitioners' protest
Ms. Halford-Hall added, "I think it is sad that the only way to raise the issue is to have a public demonstration like this. But I am pleased to see that it is a multinational group that has come out to support this issue and I hope it continues to grow in a way in this country and across the world.
"I think in the UK we are taking the problems of the world very seriously. Our Prime Minister, while failing in some areas, is certainly at least open to discussion and prepared to stick his neck out and help China. But it is not acceptable in a democratic country not to mention China's human rights issue in public."
Vietnamese-Chinese: Falun Gong Practitioners Are Courageous. Keep Going!
Mr. Bernard Chen, a Vietnamese-Chinese, read the Falun Gong practitioners' banners and took photos of the protest in Downing Street. Mr. Chen, a Tai Chi instructor, lives in the UK and is an activist against the communist party. He participated in the protests during Chinese Prime Minister Li Keqiang's visit. Mr. Chen knows Falun Gong well and admires the practitioners' long-term efforts to raise awareness of the persecution.
Mr. Chen said, "The communist party, whether in China or Vietnam, is brutal. I heard that the persecution of Falun Gong has lasted 15 years. The CCP is inhuman. The perpetrators conduct [forced] live organ harvesting of Falun Gong practitioners for lucrative profit. It is my biggest wish to bring those perpetrators to justice."

Mr. Bernard Chen, a Vietnamese-Chinese who resides in the UK, has a photo taken with Falun Gong practitioners on June 17, 2014
Mr. Chen continued, "Falun Gong practitioners are courageous. They keep doing truth clarification peacefully. Among the Chinese students in the welcome group [for the Chinese Prime Minister], some may know the facts. But they are afraid of being implicated when they go back to China. So they are compromised and forced to cooperate with the Party. Therefore, more people need to know the facts."
British Artist: People Must Rise Up First
British painter Terry Hatton used to live in the United States, where he participated in civil rights demonstrations. He was encouraged upon seeing the Falun Gong practitioners' peaceful protest. "I think it's great that you are standing here, making your presence known. It's wonderful."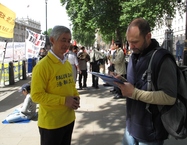 British painter Terry Hatton signs the petition against the CCP's live organ harvesting on June 17
Mr. Hatton said, "I will go on Google and find The Daily Mail and then shoot them an email: 'Why didn't you report on Falun Gong's protest?' The only time the government will rise up and do something is when the people rise up. You have to elevate the people's consciousness."
British Falun Gong Practitioner: I Wish the UK Government Would Say to the Chinese Regime in Public, "Stop Persecuting Falun Gong"
Facing the CCP's welcome group was a banner worded, "Knowing the CCP's live organ harvesting, can you keep silence?" The banner was held by British practitioner Lee Hall. Mr. Hall said, "Falun Gong practitioners in China are subjected to forced organ harvesting while they are still alive, for people who need a transplant. The practitioners are just left to die. It's one of the worst human rights abuses anyone has ever heard of in the world. I am sure the government knows about it and Vice Prime Minister Nick Clegg spoke about systematic human rights abuses by the Chinese regime. The government definitely knows about it but they have a tactic of only speaking about it in private, never mentioning anything in public. We would prefer that they say something in public about the persecution of Falun Gong in China."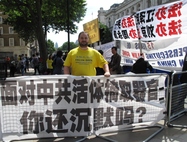 British Falun Gong Practitioner Lee Hall protests at 10 Downing Street on June 17. The banner is worded "Knowing the CCP's live organ harvesting, can you keep silent?"
Speaking about the young Chinese students in the welcome party for Li Keqiang, Mr. Hall said, "I hope they all read the banner and go home and think about it: which side do they want to be on – the good side or the evil side?"
Mr. Hall said, "I took the day off work today to come and take part in this event. I started practicing Falun Gong 13 years ago. I felt a lot of benefits, more energy and my family thought I was a nicer person. I didn't get into any arguments anymore."
Hall recalled, "I went to China in 2002. We think the CCP were watching us. The police took us away and stole some of our belongings, a camera, our train tickets. Then they sent us back to the UK. But I wanted to go there and show the Chinese people that the whole world knows what's happening in China. Practising Falun Gong in other countries is very popular and it's only the Chinese Communist Party that persecutes it."
Mr. Hall summarized his hopes for a discussion between the British and Chinese heads of state: "I expect them [the British government] to say that 100 million people practicing Falun Gong in China should be allowed to practice freely. They should not be persecuted for their belief. If people believe in Truthfulness-Compassion-Forbearance and doing exercises to make themselves better people, that's a positive thing for any country, but not something to kill people for. I think the UK government should come out and say 'stop persecuting Falun Gong in China' to the Chinese Communist Party."
You are welcome to print and circulate all articles published on Clearharmony and their content, but please quote the source.