Falun Gong practitioners from Warsaw held a two-hour candlelight vigil in front of the Chinese embassy on November 2, 2014, peacefully protesting the persecution of Falun Gong, and commemorating those who have been tortured to death during the persecution.
Candlelight vigil
People sign a petition condemning the persecution of Falun Gong
Police officers and passersby view the Falun Gong materials
The police officers on patrol were attracted to Falun Gong display boards. They had not heard about the persecution, and were especially shocked by the brutality of the state-sanctioned organ harvesting. The officers asked detailed questions about Falun Gong and the persecution. They each accepted Falun Gong fliers and thanked the practitioners for the information.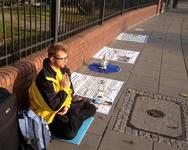 A Falun Gong practitioner peacefully protests the persecution in front of the Chinese consulate in Gdansk
On the same day, a lone local practitioner held a vigil at the Chinese consulate in Gdansk, Poland. He placed a few Falun Gong banners along the walkway, and passed out flyers to tourists and local residents.
Before starting the one-person candlelight vigil, he put a copy of the Nine Commentaries on the Communist Party in the consulate's mailbox. He sat there quietly for three hours.
His peaceful protest touched many people, including the police officers, who took photos of him. Many cars honked expressing their respect. A taxi driver invited the practitioner to his car for a cup of hot tea. Many bicyclers stopped by and sent their blessings.
You are welcome to print and circulate all articles published on Clearharmony and their content, but please quote the source.