Falun Dafa practitioners were invited to the annual Health Expo in Norway in early November 2015. Falun Dafa informational materials and books of the teachings were displayed at their booth. The practitioners demonstrated the Falun Dafa exercises with the gentle soothing music. Many attendees stopped by the booth, and learned about the health benefits of the spiritual practice, as well as the ongoing persecution in China.
Falun Dafa practitioners introduce the benefits of the practice to attendees of the Health Expo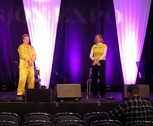 Demonstrating the Falun Gong exercises
Tine and Jorunn stopped by the Falun Dafa booth and learned that by assimilating to the principles of "Truthfulness-Compassion-Forbearance" one can change to become a more moral person. Jorunn agreed that the world needs Truthfulness-Compassion-Forbearance, and expressed hope that people would take a look at the Falun Dafa teachings. Both agreed that it's easy to get caught up in the material world, and that Falun Dafa can help us to find our true good nature.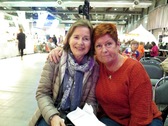 Tine (left) and Jorunn believe it is important for one to find his/her true nature of goodness
Magnus is an eighth grader who came with his mother to the expo. As his mother was browsing other booths, he chose to stay at the Falun Dafa booth. He picked up the book Falun Gong and began reading right away, until his mother came looking for him. The mother and son took Falun Dafa informational materials with them.
One man told the practitioners that he knew about Falun Dafa and the persecution, but was involved in another practice, and hesitant to learn more about Falun Dafa. A practitioner told him that the universal principles of Truthfulness-Compassion-Forbearance benefits everyone, and "It would be a pity to miss the opportunity to learn about this great teaching." The man agreed, and took the informational materials.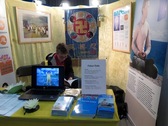 Magnus reads Falun Gong, the introductory book of Falun Dafa teachings
Besides learning about the health benefits of the practice, many people at the Expo also became aware of the persecution in China. They signed the petition condemning the Chinese communist regime for harvesting organs from living practitioners. They also supported the victims of persecution suing Jiang Zemin, the Chinese dictator who launched the persecution of Falun Gong 16 years ago.
You are welcome to print and circulate all articles published on Clearharmony and their content, but please quote the source.