Practitioners in Turkey organized a series of activities in Istanbul, on May 12-13, 2017.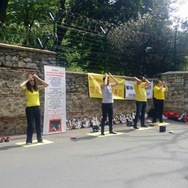 Peaceful protest in front of the Chinese Consulate on May 12

Practitioners gathered at Besiktas Democracy Memorial on May 13 and collected signatures calling for an end to the persecution of Falun Gong
Practitioners practised the exercises in peaceful protest in front of the Chinese Consulate in Istanbul on Friday, May 12. They called attention to the regime's unjust persecution and crime of forced organ harvesting from imprisoned Falun Dafa practitioners in China.
On Saturday, May 13, in front of the Besiktas Democracy Memorial, practitioners demonstrated the exercises, distributed flyers, and collected signatures. Many tourists and locals stopped to learn more about the practice and the persecution in China.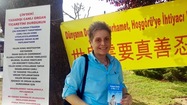 Teacher Sevdiye Teker was shocked to learn of the brutality of the persecution
A teacher who stopped at the event, Ms. Sevdiye Teker, was appalled by the atrocities. She said, "This is the first time I heard about this. It is a horror that is beyond words!"

Student Han Caliskan said he sensed a strong energy from the Falun Dafa exercise demonstration
A student, Mr. Han Caliskan, said he had received a Falun Dafa flyer a week before and had watched some videos online. He was glad to come across the exercise demonstration. "I can feel the intensity of the energy. I will come to your exercise site," he said.
You are welcome to print and circulate all articles published on Clearharmony and their content, but please quote the source.