The cities of Hasselt and Genk in northeastern Belgium are only about 9 miles (about 14 km) apart, but they are very different. One prides itself on having a history of over 1,000 years, while the other boasts a diverse culture with more than half of its residents originally from different countries. The one thing they do have in common is a Falun Dafa group practice site in each one. This peaceful meditation practice that originated in China has been available to all who are interested since 2001.
"Falun Dafa is great," said local resident and practitioner Wilfried. "The exercises improve our health, and the principles of Truthfulness, Compassion, and Forbearance bring harmony to our families. That is why my entire family likes it so much." To share the benefits of Falun Dafa with the community, his wife Carine and son Lorenz, who are also practitioners, and he have coordinated the two group practice sites for the past 18 years.
Since May of this year, the family has posted information about the exercise sites on Facebook, along with a link to the practice's website, www.FalunDafa.org. Many people in the community were interested and came to learn the exercises. Below are some of their experiences.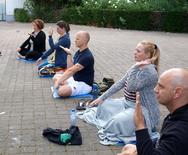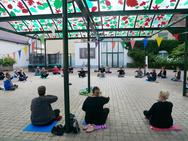 New practitioners learn the exercises at practice sites in Hasselt and Genk
Relieving Anxiety after a Stroke
Bogaerts, a programming manager with an energy firm, came to learn the exercises in May. Back in December 2018, she had fibromuscular dysplasia (FMD), a heart condition that led to a stroke. Suffering from anxiety and stress over the following months, she looked for ways to reduce the strain. "I saw the post on Facebook. My friend also saw it and told me about it, because she knew I wanted to try meditation," she recalled.
Several weeks into the practice, she found her condition had improved dramatically. "Although my recovery is still in progress, Falun Dafa has already helped me to relax and clean up my thoughts. More specifically, Zhuan Falun, the main book of Dafa, provides new insights into life and to what helps us and what does not.
"The practice, including the exercises, helps me to calm down. Everything seems so natural and close to my heart. I feel so happy!" she said.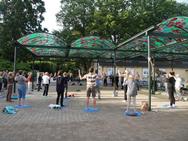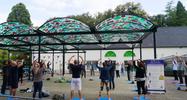 The second Falun Dafa exercise, The Falun Standing Stance
Helping Coworkers
Janien Moyens, an administrator in a hospital, joined the group practice six weeks ago. Having read Zhuan Falun once, she is now reading it a second time. She said the book is very enlightening, and she will continue reading it.
"The principles of Truthfulness, Compassion, and Forbearance are very profound and can be applied in our daily lives," she said. One of her coworkers tends to work on her own and does not get along well with others. "After becoming a Falun Dafa practitioner, I thought about this and wondered if I could help her. So I chatted with her just as I do with everyone else, without any negative notions or criticism. The conversation went surprisingly well," she said.
Moyens found the exercises also helped her to reduce stress. "It's a wonderful experience because you are not worried or bothered by random thoughts," she said.
A Peaceful Mind
Kristien Martens is a dean of student affairs at a university. Having practiced for more than two years, she said Falun Dafa and its principles benefits its practitioners but also society at large. "There is always tons to deal with at work, so I always felt so tired. Now I am able to look at things from a fresh perspective. To me, having a peaceful mind is the key," she explained.
"Practising with the group also helps a lot," she added. Besides attending this practice site, she plans to go to another one in a different city so that she can do the exercises with a group twice a week.
Wilfried said he is happy that the local residents are interested in the exercises and in the practice. "Even for someone who comes for the first time and is doing his or her best to learn the movements, including the long sitting meditation, I have not yet seen anyone leave in the middle," he said.
You are welcome to print and circulate all articles published on Clearharmony and their content, but please quote the source.