This report exposes the crimes committed by Jiang Qingming, former deputy director of Liaoning Province 610 Office, against Falun Gong practitioners during his tenure between 2015 and 2017.
Falun Gong, also known as Falun Dafa, is a mind-body practice that has been persecuted by the Chinese communist regime since July 1999.
Basic Information
Jiang Qingming (姜庆明), male, was born in April 1973 and lives in Yingkou City, Liaoning Province. He holds a Master's degree. He became a member of the Chinese Communist Party (CCP) in January 1997.


Jiang Qingming (姜庆明)
Prior to November 2015, Jiang was a director of Research Office in Liaoning Political and Legal Affairs Committee (PLAC). Between November 2015 and February 2017, he was Deputy Director of Liaoning Province 610 Office. Since February 2017, he has been a standing member of Yingkou Party Committee and Yingkou PLAC Party Secretary.
35 Practitioners Die As a Result of Persecution During Jiang's Tenure
As Deputy Director of Liaoning 610 Office between 2015 and 2017, Jiang supervised the persecution of Falun Gong practitioners, including arrests, home raids, detention, imprisonment, and brainwashing.
Over 100 Falun Gong practitioners across Liaoning Province were arrested in June 2016 alone. Prior to the arrests, police monitored the practitioners through shadowing, watching near their homes, GPS positioning, phone tapping, and cyber monitoring.
According to information collected by Minghui.org, 4,079 practitioners in Liaoning Province were persecuted for their belief between 2016 and 2017. Among the 4,079 persecuted practitioners, 35 died as a result of the persecution; 400 were sentenced to prison; 117 were tried and awaiting verdicts; 47 were indicted and awaiting trial; 180 were issued formal arrest warrants and awaiting indictment; 1,361 were in police custody and awaiting issuance of formal arrest warrants; 49 were on bail and awaiting issuance of formal arrest warrants; and 1,890 were harassed or escaped arrests. At least 622 of the 4,079 practitioners had their homes raided and money extorted for a total amount of 5.11 million yuan.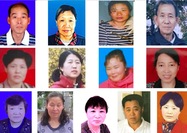 Some Liaoning practitioners who had lost their lives due to the persecution (left from right, including both names and cities).Upper row: Mr. Wang Yuquan (Jinzhou), Ms. Cheng Fuhua (Dalian), Ms. Gao Lianzhen (Fuxin), Mr. Shao Zhongye (Dandong)Middle row: Ms. Du Jingqin (Fushun), Ms. Tian Caiying (Fushun), Ms. Ren Guixia (Jinzhou), Ms. Wang Yanqiu (Jinzhou)Lower row: Ms. Shen Zhenlan (Anshan), Ms. Wu Jingmei (Dalian), Ms. Xu Guixia (Shenyang), Mr. Lu Yuanfeng (Shenyang), Ms. Wang Guiling (Mudanjiang)
Hospital Room Turned into Courtroom
Mr. Song Yuegang of Benxi City was arrested for filing criminal complaints against former Chinese dictator Jiang Zemin for launching the persecution of Falun Gong. Bank notes with messages about Falun Gong printed on them were taken from Mr. Song's home and used as "evidence" against him. In addition, police ransacked his home and confiscated 9,000 yuan.
Mr. Song first appeared in Xinhu District Court on December 13, 2016, but the hearing was adjourned when he suddenly collapsed and had to be taken to the hospital. Mr. Song's attorney requested that he be released on bail, but it was denied.
A second hearing was held in Mr. Song's hospital room on December 22, 2016, and the bailiffs had to prop him up when he had trouble sitting up by himself. The nurse checked his blood pressure and it was very high (157/116). Despite his condition, the judge pushed through the hearing and later sentenced him to three years in prison.
Sentenced to Five Years for His Belief
Mr. Wang Qing, of Beipiao City, was sentenced to five years in prison for his faith in Falun Gong. His appeals hearing was held in Beipiao Court on June 22, 2016. Meng Fanshi from Chaoyang Intermediate Court acted as the presiding judge. He interrupted Mr. Wang many times, prohibiting him from mentioning Falun Gong or lawsuits against Jiang Zemin. Shi Fulong, lawyer of Mr. Wang, protested against Meng's behaviour to the procuratorial officer.
Shi defended Mr. Wang's innocence such as freedom of belief and right to file criminal complaints against Jiang Zemin based on the law. He also pointed out that the personal belongings, including a flash drive, a fan, and a couplet, found in Mr. Wang's home that bore Falun Gong messages caused on harm to anyone and should never have been used as evidence by the trial court to sentence him to five-year prison term.
It remains to be investigated whether the appeals court upheld or overturned Mr. Wang's guilty verdict.
Judge Uses Threats to Pressure Lawyer to Plead Guilty
Ms. Song Guixiang, of Dandong City, appeared in Yuanbao Court on July 7, 2016. Her husband was the only family member allowed to attend the trial. Ma Shuhe, president of the criminal court who had sentenced many practitioners before, presided over the trial.
Prior to the court hearing, Ma had attempted to stop Ms. Song's lawyer from pleading not guilty on her behalf by threatening to issue a longer prison term.
Despite Ma's threats, the lawyer, entered a not guilty plea for Ms. Song and defended her innocence in court.
Sister of Falun Gong Practitioner on Trial Detained for Hours
Ms. Zhang Jihong, a practitioner from Huludao City, appeared in Suizhong Court on June 20, 2016. Her sister was blocked outside and detained for several hours when she refused to curse the founder of Falun Gong as requested by officer Liu Huanyu who also asked if she herself was a Falun Gong practitioner.
Another hearing was held on June 30, 2016 and Ms. Zhang was sentenced to a two-year imprisonment.
Witness Threatened
Mr. Chen Yan, of Faku County, was initially scheduled to appear in Faku Court on June 14, 2016. Two days before his hearing, his wife and his witness Ms. Wang Guizhi came to the courthouse to get required witness paperwork done. Judge Sun Kai told them that the trial would be postponed to June 16 now that Mr. Chen had a witness to testify in his defence.
Hou Dongbo, Deputy Director of Faku Police Department, sent his officers to Ms. Wang's home on June 15, threatening to arrest her should she show up in court to defend Mr. Chen.
During the trial, prosecutor Yao Tianchi played a video footage of police interrogating Ms. Wang four years earlier and said it'd show that she admitted to Mr. Chen giving her Falun Gong materials.
The video, however, indicated that the interrogating officers never asked any questions about Mr. Chen and that they simply gave her, who was illiterate, a prepared document to press her fingerprints on. Mr. Chen's lawyer thus concluded that the video was inadmissible evidence.
Jiang Qingming's Crimes Continue in Yingkou City
After Jiang was appointed Yingkou PLAC Party Secretary in February 2017, he continued to direct the persecution of Falun Gong practitioners. Below are some examples.
Ms. Li Xiufeng was arrested on December 5, 2017 when she went to Xinxing Police Station to deliver copies of government documents showing the practice of Falun Gong was lawful. The police sent her to Yingkou Detention Center. During a trial by Zhanqian Court on August 6, 2018, both Ms. Li and her lawyer defended her innocence. However, she was sentenced to three years and sent to Shenyang Women's Prison.
Ms. Sun Guilan from Bayuquan District was arrested by officers from Chentun Police Station when she told others about Falun Gong at a farmer's market on September 29, 2017. She was detained and tried by Bayuquan Court on June 5, 2018.
Another practitioner from Bayuquan District, Ms. Yan Chunxiang, was arrested in November 2017 as she was distributing calendars bearing messages about Falun Gong. She was sent to Yingkou Detention Center and appeared in Gaizhou Court on May 18, 2018. She was sentenced to 7 months in prison.
Officers from Zhanqian Police Department and Jianshe Police Station arrested 65-year-old Ms. Gao Xiuhua on June 28, 2016. Following a hearing in April 2017, Xishi Court sentenced her to two years on March 19, 2018. She was later sent to Masanjiazi Prison.
Laobian District police arrested Ms. Liu Xingyan and Ms. Ma Suyuan on May 2, 2018. Ms. Liu was kept at Yingkou Detention Center while Ms. Ma was released on bail due to her poor health. Laobian Court sentenced Ms. Yan to two years of imprisonment. Ms. Ma was sentenced to a three-year imprisonment and was released on parole due to her health.
You are welcome to print and circulate all articles published on Clearharmony and their content, but please quote the source.