The European Tian Guo Marching Band performed in Greece for the first time on October 11-12, 2019, giving four performances in Athens.
The Tian Guo Marching Band is composed entirely of Falun Gong practitioners. Through the band's performances, practitioners hoped the Greek people would sense how beneficial Falun Gong is and become aware of the persecution of Falun Gong in China.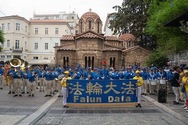 The European Tian Guo Marching Band held four performances in Athens, Greece, on October 11 and 12, 2019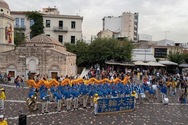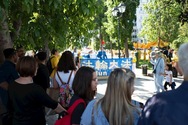 The Tian Guo Marching Band parades through the Plaka, the historical part of Athens, and the city's commercial district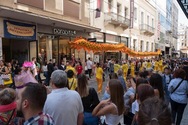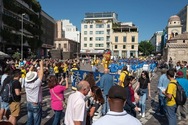 The band paraded through the Plaka, the old historical part of Athens, on October 11, starting from Kotzia Square at noon and passing by Syntagma Square, the Church of Panagia Kapnikarea, Monastiraki Square. The band completed its five-hour-long route at Thissio around 5:00 p.m.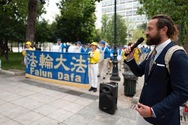 A Falun Gong practitioner introduces Falun Gong and the Tian Guo Marching Band in both Greek and English at Syntagma Square
Syntagma Square, also known as Constitution Square, is the central square of Athens and is an important place for local people to gather for celebrations and commemorations.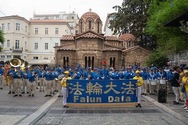 Performance at Monastiraki Square, Athens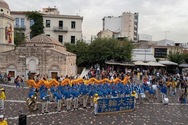 A Greek man named Lanidas joined the parade. He held a banner all the way to the end of the route, and though he was not a Falun Gong practitioner, he said he wanted to participate in the parade to support Falun Gong and oppose the persecution.
"Keeping silent about the persecution is dangerous. Everyone should believe in Truthfulness, Compassion, and Tolerance. I believe this is the truth," Lanida said, "Communists heavily brainwash people. People should not be persecuted for their belief."
Monastiraki, means "small monastery" in Greek, and is a flea market neighbourhood in the old historical area of Athens. The area is considered one of the principal shopping districts in Athens.

Nikos, a student of political science, said he liked the Tian Guo Marching Band's music very much because the group is peaceful and performers are in good harmony. "Truthfulness, Compassion, and Tolerance are the values of the world," Nikos said

A woman said she felt a strong energy field from the performance. "The music is very beautiful. This is my first time to feel an energy field in music. My heart felt very pleasant," she said, adding, "Forced organ harvesting is a tragedy. Everyone is entitled to freedom of belief"

Riben (left), a chef from London, and Jasper, who works in a library, said everyone could benefit from the principles of Truthfulness-Compassion-Tolerance. "Much of the suffering and unhappiness in life are because people have ignored these great principles," Riben said
You are welcome to print and circulate all articles published on Clearharmony and their content, but please quote the source.