"This parade is impressive. It is peaceful, yet it caught people's attention. Compared with other protests, the Falun Gong practitioners' way is very effective," said Elvis, a law student at a university in Vienna, Austria.
"I have not heard of Falun Gong before this. It caught my attention, because of today's parade, especially being so peaceful." He said that he would do some research about Falun Gong, also called Falun Dafa, and the persecution later.
Elvis was referring to the Tian Guo Marching Band and Falun Gong practitioners parade in Vienna on November 8 and 9.
The Tian Guo Marching Band performed also at several tourist sites on the following day. Falun Dafa practitioners set up an information booth, signature drive, candlelight vigil and other activities.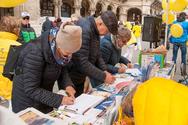 Viennese residents sign a petition to support Falun Gong
Spectators watching the Tian Guo Marching Band performance in Vienna Austria
The information booth was set up on the Herbert von Karajan Platz beside the Vienna National Opera House on November 8. It was moved to Heldenplatz, also a tourists spot, on the second day, while the Tian Guo Marching Band performed in the inner city.
Wanting to Take Part in the Parade
Mariela Jolidon, a tourist from Lausanne, Switzerland, watched the parade and band performance. She said, "The peaceful music called to me, inviting me to take part in the parade." She wants to learn the practice after returning home, hoping it could help her sensitive skin.
Peter Pacher, a movie director and a member of the local symphony orchestra, took videos of the performance at Michaelplatz. He said, "I like their music very much. I can hear a unification of both Asian and Austrian melodies. It is peaceful, comfortable, and pleasing to my ears."
He had not heard of Falun Gong. Therefore, this encounter attracted his interest, and he said that he would read more about the practice.
College Student, "I know why the communist regime wants to persecute Falun Gong."
Jakob Lindorfer, a college student in Vienna, and a drummer, was impressed by the band, and listened through the entire performance at Burgtheater. He took a flier clarifying the truth about Falun Gong, and read it while listening.
He said after reading the flier, "I know why the communist regime wants to persecute Falun Gong. It's because the regime's principles are the opposite of [Truthfulness Compassion Forbearance]. The regime fears these values. Truthfulness-Compassion- Forbearance are important principles in our life and our society."
| | |
| --- | --- |
| | |
| The Tian Guo Marching Band and Falun Gong practitioners parade through many tourist sites in Vienna | Re-enactment: Chinese police and doctors harvest vital organs from a living Falun Gong practitioner |
| | |
| Spectators accept fliers introducing Falun Dafa, and publicize the persecution in China | The Tian Guo Marching Band performed in Vienna again on the second day |
Irish teacher, "Chinese people ought to know what their government is doing"
Recalling her four-year teaching experience in China, Aoife Browne, an elementary teacher from Ireland, noticed her Chinese colleagues avoided talking about Falun Gong. She said, "It is important to let people know Falun Gong. [This cultivation practice] is so positive and peaceful. Chinese people ought to know what their government is doing. The persecution is genocide – a massacre. It is not on the same level of 'no freedom to access internet.'"
She continued, "I love China, I like Chinese people very much. They have the right to know the truth. I believe they will take action once they know the truth."
German Company Director, "Must stop the persecution and organ harvesting crime"
Oliver Polanz is the director of health, safety and environment department of a German company. He and his wife signed the petition opposing the persecution of Falun Gong.
The couple had learned of the persecution on TV and from other media.
"Organ pillaging is against all values of a society," he said. "It cannot be tolerated. Undoubtedly, you can't steal organs from a living human being."
| | |
| --- | --- |
| | |
| Oliver Polanz and his wife | British student Eleanor Paisley |
Briton Eleanor Paisley is currently studying toward a philosophy degree in Paris. She and her friends signed the petition. "I hope my signature can help. If there are other ways I can help, I am willing to lend a hand," she said.
Candlelight vigil
A candlelight vigil was held on Michaelplatz commemorating Falun Gong practitioners who died in the persecution.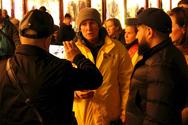 A Russian tourist taking video of a practitioner explaining what Falun Gong is
You are welcome to print and circulate all articles published on Clearharmony and their content, but please quote the source.