May 13, 2020, was the 28th anniversary of Falun Dafa's public introduction and the 21st World Falun Dafa Day.
Denmark is gradually reopening from the lockdown due to the coronavirus pandemic, and the Danish government recommended that gatherings remain below 10 people. Falun Gong (also called Falun Dafa) practitioners held several celebratory activities.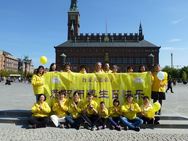 Group photo of practitioners celebrating World Falun Dafa Day in Copenhagen. The banner reads "Danish Falun Dafa Practitioners Wish Master a Happy Birthday"
Celebrating World Falun Dafa Day in Downtown Copenhagen
Practitioners went to downtown Copenhagen and celebrated World Falun Dafa Day on May 9, as they had done in prior years. They expressed their gratitude to Master Li.
In the afternoon, they went to City Hall Square and unfurled large banners and posters. They also set up a table with Dafa information. Several of the practitioners demonstrated the exercises, keeping in mind the social distancing requirement.
Group exercises on Copenhagen City Hall Square
Due to the pandemic, there were far fewer people on the square than usual. However, the exercise demonstration caught the attention of some passersby. A bike rider gave the practitioners a "thumbs up" and applauded them.
A passerby named Robert asked for Falun Gong information and appeared very interested. He said, "I felt quite different as I got closer. There is a strong energy field!"
When a practitioner told him that the Falun Gong principles are Truthfulness, Compassion, and Forbearance, he announced, "This is what I want!" and asked about learning the exercises.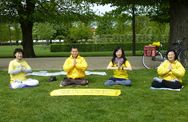 Practitioners demonstrated the sitting meditation at King's Garden. They pressed their palms together in front of their chests to express their gratitude to Master Li
That same morning, several practitioners went to King's Garden, where practitioners have done the exercises together since 1997. Their exercise demonstration caught the attention of passersby, who read the information on the posters and took informational materials.
Practitioners shared their experiences and expressed their gratitude to Master Li.
Clarifying the Truth for Over Ten Years
For over 10 years, Zhu has often stood in front the Chinese Embassy to protest the Chinese Communist Party's (CCP) persecution. He was a successful real estate business owner in China before 2001. The police confiscated his property in China to retaliate for his peaceful protests in Copenhagen.
"What I do is tell people about the CCP's persecution and the goodness of Falun Dafa," Zhu said. "I appreciate Master Li for compassionately saving me and my family!"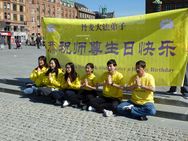 Practitioner Zhu and his family appreciate Master Li. His wife and three children all practise Falun Gong
Family of Three Generations Left China
Yang and his wife Bao experienced the CCP's persecution when they were young in China. Both their parents were imprisoned. They started to practice Falun Gong by following their mothers.
Yang went to Denmark as a student because he was denied an education in China, given his Falun Dafa background. He called for the release of his mother and filed a complaint against former Minister Jia Chunwang of the China's Public Security.
Yang's mother was later released and joined the young couple in Denmark. The family of three generations practice Falun Gong and appreciate Master Li for introducing Dafa to the world.
Practitioner Yang and his family of three generations appreciate Master Li
You are welcome to print and circulate all articles published on Clearharmony and their content, but please quote the source.