Six hundred and six legislators from 30 countries signed a joint statement on July 18, 2020, condemning the 21-year-long span of "systematic and brutal" persecution of the peaceful spiritual discipline of Falun Gong and calling for the Chinese Communist Party to stop the persecution immediately.
The joint statement was initiated by two senior Canadian MPs, Peter Kent and Judy Sgro, as well as Sweden MP Ann-Sofie Alm. It received unprecedented support from an international body of current and former officials from the United Kingdom, Germany, France, Italy, Denmark, Ireland, the Netherlands, Switzerland, Belgium, Romania, Austria, Poland, the Czech Republic, Slovakia, Israel, Australia, New Zealand, Latvia, Norway, Argentina, Japan, Taiwan, Venezuela, Chile, Estonia, Hungary, the United States, and Indonesia.
Some signatories made additional statements. A few such examples are listed below.
Quote from Ann-Sofie Alm, Member of Parliament, Sweden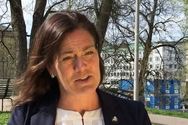 Ann-Sofie Alm
"On July the 20th, 21 years have passed since the persecution of Falun Gong practitioners first started. The free world is slowly becoming aware of the cruelty of the Chinese Communist Party toward its own people.
"I want to raise awareness of the many Falun Gong practitioners who have been detained in 're-education through labour' camps, prisons, and other detention facilities as prisoners of conscience. There have been reports of torture and even forced organ harvesting. That is why this joint statement was initiated.
"In fact, the persecution of minorities in China is among the worst crime against human rights the world has ever seen. It has described as a genocide by some international observers and judicial authorities.
"We in the free world must stand up for the people of China. We need to stand together. This is why this joint statement is so important. The Communist Party of China needs to know what the free world wants. We want this persecution and all other persecutions to end. It needs to stop right now."
Joint Statement of 606 Parliamentary Signatories Calling for an End to the Persecution of Falun Gong
We are deeply concerned over the ongoing human rights abuses against Falun Gong practitioners in China.
We understand that Falun Gong (a.k.a. Falun Dafa) is a spiritual meditation practice based on the principles of Truthfulness, Compassion, and Forbearance. The 20th of July 2020 marks 21 years since the Chinese Communist government launched a systematic and brutal campaign to "eradicate" Falun Gong. Since July 1999, millions of Falun Gong practitioners in China have been arbitrarily arrested and jailed without due process and many have been tortured and even killed. At the very least, thousands have died as a result of such torture and other abuses in police custody.
These atrocities have been well-documented by human rights organizations, governmental bodies, and the United Nations. The 2007 U.S. State Department Human Rights Report stated, "[the UN Special Rapporteur on Torture Manfred] Nowak reported that Falun Gong practitioners accounted for 66 percent of victims of alleged torture while in government custody." Amnesty International's 2017/18 report said, "Falun Gong practitioners continued to be subjected to persecution, arbitrary detention, unfair trials and torture and other ill-treatment." The persecution of Falun Gong in China has been one of the harshest campaigns against a faith group in modern times.
In 2013, the European Parliament passed resolution 2013/2981(RSP), "expresses its deep concern over the persistent and credible reports of systematic, state sanctioned organ harvesting from non-consenting prisoners of conscience in the People's Republic of China, including from large numbers of Falun Gong practitioners." In 2016, the U.S. Congress unanimously passed a similar resolution, H.Res.343. In 2019, an Independent Tribunal in the UK, chaired by Sir Geoffrey Nice QC, concluded that "forced organ harvesting has been committed for years throughout China on a significant scale and that Falun Gong practitioners have been one—and probably the main—source of organ supply."
We, the undersigned, therefore urge the Chinese government to respect international norms and the United Nations International Covenant on Civil and Political Rights which China is a signatory to, and to immediately stop the persecution of Falun Gong in China, and to unconditionally release all detained Falun Gong practitioners and other prisoners of conscience.

You are welcome to print and circulate all articles published on Clearharmony and their content, but please quote the source.