Falun Gong is a spiritual discipline based on the principles of Truthfulness-Compassion-Forbearance. But due to its popularity and traditional values, the Chinese Communist Party (CCP) has persecuted its practitioners since July 20, 1999, spanning 21 years.
More than 4,500 Falun Gong practitioners are confirmed to have lost their lives to the persecution, although the true number is likely many times higher. Hundreds of thousands of practitioners have been confined to forced labour camps, tortured physically and mentally, and even killed for organs.
Falun Gong practitioners across the world conduct activities around the anniversary of the persecution on July 20 to raise awareness of the situation in China. Former and current officials, members of parliament, members of state legislatures, and other dignitaries have openly expressed their support for Falun Gong and condemned the persecution.
Elected Officials in Austria Support Falun Gong
From July 18 to 21, Falun Gong practitioners held a series of events to mark the 21st anniversary of countering the persecution. Six officials sent letters of support to Falun Gong practitioners, condemning the CCP's persecution. A Vienna city councillor spoke at the July 21 event.
Practitioners held a rally in front of Stephansplatz on July 18 and a candlelight vigil in front of the famous Black Death Memorial Column on Graben Street to commemorate the practitioners who have died in the persecution. They also held a rally and candlelight vigil in front of the Chinese Embassy for 24 hours on July 20.
Support from Members of the National Council and Vienna City Councillor
"[The CCP] commits crimes in the serious and systematic violation of human rights against Falun Gong practitioners," stated Dr. Gudrun Kugler, Member of National Council (MNC), in her letter.
"Therefore, we should work together to end this cruel persecution. I am happy to support citizens' opposition to the CCP's live organ harvesting, and therefore on June 23, I submitted a bill to the Human Rights Commission. The bill was supported and approved by all parties."
Dr. Ewa Ernst-Dziedzic, Member of the National Council and the Human Rights Committee, wrote, "You can rest assured that I will continue to support you in reaching your goal to end the inhuman persecution of Falun Dafa. I will not stop reminding Chinese leaders that the International Covenant on Civil and Political Rights also applies to authoritarian countries."
MNC Petra Bayr, spokesperson for global development, wrote, "Cultural and religious freedom are human rights. Freedom of speech is a human right. Human rights are universally applicable and indivisible, and must be respected in each country."
MNC Faika El-Nagashi, civil society spokesperson, wrote, "Human rights violations around the world are systemic. The purpose is to maintain power, suppress criticism through fear, and prevent system changes. The human rights situation in China is worrying–this has been comprehensively documented over the years."
MNC Petra Wimmer, spokesperson for family affairs of the Social Democratic Party, wrote, "I express my condolences to the relatives of Falun Dafa practitioners who died in torture, prison, concentration camp, or illegal organ trafficking. The attention of the international community can arouse people's attention to these issues, thereby increasing the pressure on the Chinese government to stop [the persecution]."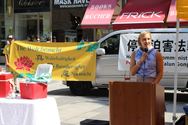 Caroline Hungerländer, Vienna City Councillor, speaks at the July 22 event.
Public Support for Practitioners' Efforts to End the Persecution
Falun Gong practitioners demonstrated the exercises, collected signatures, and reenacted the CCP's state-sanctioned live organ harvesting to raise awareness of the atrocity.
"This is crazy! I never thought that something like this could happen," a man from Hungary said about the CCP's organ harvesting. He said he would let more people know about the crime.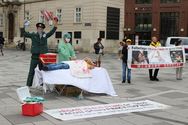 Reenactment of the CCP's live organ harvesting from Falun Gong practitioners
Demonstrating the Falun Gong exercises

A practitioner speaks in front of the Chinese Embassy.

Signing a petition against the persecution
You are welcome to print and circulate all articles published on Clearharmony and their content, but please quote the source.