"Is this a protest? You are completely different from other groups that I've seen who held protests here. Your music is so pleasant. All of you look very friendly. It is truly a pleasure every time I see you here," a Swedish woman complimented Falun Dafa practitioners as she stopped at their information booth.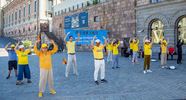 Practitioners demonstrate the exercises at Mynttorget on August 8, 2020.
The afternoon of August 8, 2020 was this summer's hottest day in Stockholm. Despite the scorching weather, practitioners continued with their plans for another Falun Dafa information day at Mynttorget, which is next to Sweden's Parliament.
They put up banners and display boards, demonstrated the exercises and handed out brochures to help people learn about the spiritual discipline and the brutal persecution happening in China. People were asked to sign a petition to call for an end to the atrocities. The tranquil, orderly scene and strong compassionate energy field drew the attention of many people.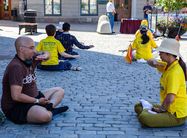 A passerby drawn by the serene atmosphere of practitioners doing the exercises stopped to learn the movements.
The Swedish woman who complimented the practitioners said, "Most protest groups appear to be violent, but every time I see you I feel relaxed and happy. With everything going on in the world, people are feeling very anxious and uneasy. You have brought peace and tranquility here." She said that she hopes to see practitioners' activities in more places in Sweden.
Isabel is a Chilean and has lived in Sweden for a long time. She took a pamphlet and said excitedly, "I heard about this a long time ago. The Chinese Communist Party's (CCP) ruthless suppression of Hong Kong citizens who seek freedom from tyranny has made me believe even more that this persecution is true and it is extremely evil." When told about the petition, she said loudly without hesitation, "I must sign it!" She signed two names. Practitioners thought it was a mistake but she said, "This is my husband's and my signature. My whole family knows about this. I want them to sign their names too but I'll just put two names today. This persecution is totally unacceptable."
A Swedish man from Stockholm was very interested in traditional Chinese culture, and chatted with practitioners for a long time. He said the CCP's suppression of Hong Kong citizens and the spread of the coronavirus worldwide made him clearly see the regime's evil nature, as well as its intention to rule the world. He told practitioners that he had heard about the persecution before, but did not realize it had gone on for 21 years. He expressed great respect for the practitioners' persistence in resisting the brutality through peaceful means. He said that if everyone had a clear understanding of the true nature of the CCP, it would have a great impact in changing the world. He wanted to help and signed the petition.
People show support by signing the petition to call for an end to the persecution.
You are welcome to print and circulate all articles published on Clearharmony and their content, but please quote the source.