Falun Gong practitioners held activities on Kauppatori in downtown Tampere, Finland on August 26, 2020. They demonstrated the Falun Gong exercises as well as informed people about the 21-year persecution of the practice by the Chinese communist regime, including brutal organ harvesting targeting imprisoned Falun Gong practitioners.
| | |
| --- | --- |
| | |
| Practitioners demonstrate the Falun Gong exercises in Tampere on August 26, 2020. | Talking with passersby |
Oona, her husband, and child stopped at the practitioners' event. She said, "My brother-in-law Tony talked with you about this. He is very knowledgeable and told me a lot about the bad situation in China." She thanked the practitioners and said she felt a strong energy field coming from them.
Alma and her family were attracted by the music and stopped to talk with practitioners. After hearing about the CCP's persecution in China, they signed the petition condemning it. Alma said she knew about Daoism and meditating. She said she appreciated practitioners' efforts and commended them.
Krista, an engineer, stopped at the table to sign the petition. A practitioner asked her whether she knew what it was for.
"I don't know about Falun Gong, but I know that the human rights situation in China is terrible," Krista said.
The practitioner told her the story behind the persecution. Krista asked what else she could do to help. The practitioner told her to tell as many people as possible about the persecution as the CCP is afraid of people knowing the truth.
Krista said that she would tell all her friends and family. She asked how Chinese people spread the information as there is internet censorship in China.
"Falun Gong practitioners inside China risk their lives to distribute fliers and other informational materials," the practitioner explained. "Many people who know the facts about Falun Gong and the persecution also spread programs to get around the CCP's internet censorship."
Mia stopped to watch practitioners as they did the exercises and said she felt strong energy. She said, "This persecution is horrible. I firmly believe that the perpetrators will be brought to justice. We will see the day the persecution ends."
Mia was interested in learning Falun Gong and asked about the local group practice location and time. She took an additional flier for her friend.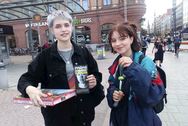 Passersby stop to talk with practitioners and happily accept a lotus flower.
Helin and her two classmates passed by. She said, "I met practitioners in Australia." She and her two classmates signed the petition.
Even though she'd heard of Falun Gong before Sonja asked a practitioner several questions. She said indignantly, "The media like to report irrelevant entertainment news, but not such important things as this human rights persecution. This persecution really should not happen! I will tell others." She thanked the practitioner as she went on her way.

You are welcome to print and circulate all articles published on Clearharmony and their content, but please quote the source.