Falun Gong practitioners in Finland held activities to mark 21 years of peacefully resisting the Chinese Communist Party's (CCP) persecution. They distributed flyers and collected signatures on a petition on Aleksanterinkatu Street in Lahti on July 15 and in Kouvola on July 18.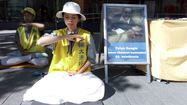 Practitioners demonstrate the exercises in Lahti.
Two Chinese men happened to pass their booth and asked for more information. The practitioner told them the facts about Falun Gong and the recent news that has been blocked by the CCP. One of them asked the practitioner to download the overseas media app on his phone so that he could access this news. It took a long time because his cell phone from China had a lot of restrictions, but they waited patiently. The men told the practitioner that they came from Northeast China and recently learned about the freedom of belief and speech overseas. They left happily with the news app and some introductory materials about Falun Gong.
A local Chinese chef said he didn't believe the information on the CCP's media and he watches media from outside China instead. "The Chinese Communist Party has committed so many crimes! Its days are numbered. It's a pity that some of my friends are still watching the CCP news on WeChat." The man quit the Young Pioneers that he had joined as a child and encouraged practitioners to hold more activities like this all over the city.
People in Lahti sign a petition to call for an end to the persecution.
Many people stopped to sign the petition and expressed their support for Falun Gong. Aaroh, a local resident, said the CCP monitored the Chinese people with artificial intelligence. He said people know that some things in China shouldn't have happened. Heikki, another local resident, showed great interest in Falun Gong and planned to learn it.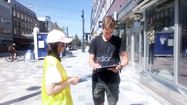 People in Kouvola support Falun Gong.
Juha, a resident of Kouvola, told a practitioner, "I've heard a lot about the persecution. The Communist Party has fabricated lies, even saying Falun Gong people cut open their own abdomens. I completely disbelieve it. They have persecuted Falun Gong as well as Uyhgurs and Tibetans. They even claimed that not a single person was killed during the Tienanmen massacre in 1989!"
Another man told a practitioner that he knew what the CCP did, and he signed a petition for Falun Gong years ago. He also watched a video about how the CCP sealed the doors of peoples' homes in China during the coronavirus pandemic. He said he didn't believe the number of infections in China at all.

You are welcome to print and circulate all articles published on Clearharmony and their content, but please quote the source.