Falun Dafa practitioners held activities to clarify the truth in downtown Vienna on September 13, 2020. They set up an eye-catching yellow tent at Stephansplatz, and a photo exhibition to introduce Falun Dafa and expose the Chinese Communist Party's (CCP) persecution.
They also collected signatures calling on the Austrian government to help stop the CCP's persecution, especially the state-sanctioned organ harvesting from living practitioners. Practitioners distributed fliers and talked with passersby. Many people gathered to listen to the Tian Guo Marching Band's performances.
Located in downtown Vienna, Stephansplatz is a must-see tourist destination. St. Stephen's Cathedral and major brand stores for shopping are also nearby. Practitioners have been holding truth-clarification activities there every other week for many years.
Practitioners demonstrate the exercises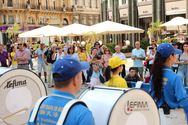 The Tian Guo Marching Band's performance attracted many spectators, who took photos and videos.
Wonderful Sunday Afternoon
"I think this is a kind of call with a positive and motivating message," Gabi Hartel said after watching the Tian Guo Marching Band performance. Gabi and her husband were about to visit her mother when they heard the music. They walked to the square to see what was going on.
"It makes me feel happy. This is really wonderful! They are also very beautifully dressed. Such positive music will bring us happiness all day long!" Gabi exclaimed.
Gabi said that the persecution made her feel sad after a practitioner explained that the band members would be imprisoned and tortured if they went to China.
She said that her son-in-law is Chinese and immigrated to Austria with his parents when he was a child. He and his family know about the situation in China, and he feels sad about what's happening to his friends there.
"This is a wonderful Sunday afternoon," Gabi said while recording the band's performance with her cell phone. "I will feel happy when I watch this video again. I will look for more information about Falun Dafa."
People sign the petition to condemn the CCP's organ harvesting which targets practitioners.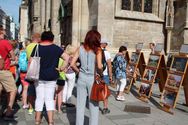 A photo exhibition shows the journey of Falun Dafa practitioners and their efforts to expose the persecution.
"Live Organ Harvesting Is Inhumane"
After they learned about the CCP's 21-year-long persecution, Tanja Ehrenboeck-Fortin and her two family members, undergraduate student Lea Fortin and Violet Ehrenboeck, signed the petition and said they supported the practitioners' efforts..
"This is inhumane and should not occur in this world," Tanja said about the live organ harvesting, "It's beyond human imagination. It's incredible. You can't even do this to animals, let alone to people."
She said she signed, "So people will pay attention to this issue and help stop it." She said she would tell more people about this, "In this way, I can also provide some assistance instead of just signing. We are all human beings. We should not just focus on our own lives."
"I was shocked when I heard of this," Lea said. She explained that her friend told her about the persecution. "This is horrible. I started to look for information about it on the Internet. One should not be treated like this in any case. People should take action to end live organ harvesting all over the world, not just one government."
"I wish the CCP persecution never happens in the world," Violet said, "Signing the petition is just a small effort for me. But I really hope it helps because this persecution shouldn't happen at all. It really makes me feel sad."
Waltraud Suchy said, "Live organ harvesting is unimaginable. How can such a thing happen today? This should be forbidden. I hope that this message can be spread all over the world, lead to some action to end the persecution, and let what happened in China be made public."
Maria heard about Falun Dafa from her friend. "Falun Dafa is good and has nothing to do with politics. I feel sorrow and cannot understand why Falun Dafa is persecuted in China."
"Live organ harvesting and the persecution of Falun Dafa are trampling on human rights. This cannot be tolerated." Maria said, "It is my wish to have more people know about this important issue, to let Falun Gong practitioners practice freely in China and to let people live in peace."
Several people signed the petition including students from Belgium and tourists from Slovakia. People hurried to sign the petition while the practitioners were wrapping up the event.
"Organ trafficking has already broken through the bottom line of humanity," said an Italian man who was the last person to sign the petition that day. "I can't ignore it. One day China's problems will become our problems. I sign this and hope to support you and to let more people pay attention to this issue."

You are welcome to print and circulate all articles published on Clearharmony and their content, but please quote the source.