While many families around the globe gathered to celebrate Christmas eve, Benedict Rogers, co-founder and chief executive of Hong Kong Watch, started a 24-hour hunger strike in protest of the Chinese Communist Party's persecution of innocent people.
"I cannot, in good conscience, enjoy Christmas celebrations without remembering my Hong Kong, Tibetan, Uyghur, Christian, Falun Gong and Chinese dissident brothers and sisters. The very least I can do is sacrifice a few hours of my Christmas Eve in a symbolic gesture of solidarity and to call on the world to speak up for them and to confront the Chinese regime's atrocious human rights violations. I hope others will join me around the world, at least in spirit, in these demands," Rogers told the UK media The Tablet.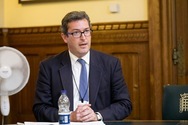 Benedict Rogers
Rogers said he can't be with his mother this year due to the pandemic, which made him even more sympathetic to people "who are separated from their families and loved ones because of the Chinese Communist Party regime's inhumane repression."
"This Christmas there are people in prison in Hong Kong and throughout China who can't be with their parents, spouses, wives, relatives, and friends—and worse, are languishing in dire conditions and subjected to physical and mental torture and slavery.
Before his hunger strike, he published an open letter to Xi Jinping, the head of the Chinese Communist Party, as well as another open letter to "all peoples suffering under the Chinese Communist Party's repressive rule."
Rogers said his action was "to let the peoples of China—and especially those imprisoned by your regime—know that they are not forgotten and not alone. And as they sit in their prison cells or concentration camps in different places across China this Christmas Eve, I hope they may know in their spirits that there are people in the free world speaking their names, calling for their release, ensuring that the world does not ignore their cries."
He added, "In addition to all the individual prisoners of conscience across China, there are the big-picture tragedies that keep my soul and conscience awake at night, too: the genocide of the Uyghurs; the atrocities in Tibet; the persecution of Christians, Falun Gong practitioners, and other religions; the repression of civil society, lawyers, bloggers, journalists, whistleblowers, and dissidents; the broken promises and dismantling of freedom in Hong Kong; the barbaric forced organ harvesting, torture and slave labour. These things must stop."

You are welcome to print and circulate all articles published on Clearharmony and their content, but please quote the source.