Knack, the most influential magazine in the Flemish Region of Belgium with nearly a half million readers, published an article on February 25 about body exhibitions and their connection to human rights violations in China.
Written by Trui Engels and based on information from the International Coalition to End Transplant Abuse in China (ETAC), the article explained that the plastinated bodies exhibited at the The Antwerps Sportpaleis came from people who had been detained, tortured, and murdered in China.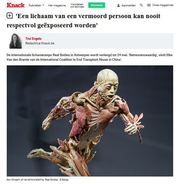 An article by Knack, a major Belgian magazine, on forced organ harvesting in China
Elke Van den Brande, ETAC's National Manager in Benelux (Belgium, the Netherlands, Luxembourg), said any moral, responsible exhibition must disclose the authentic identities of the bodies and the causes of death. She also said that the exhibitor of the aforementioned body show had acknowledged that the bodies were unclaimed bodies from China and that they did not have the documents required by international organizations.
Evidence indicates that the plastinated bodies were not from donations or unclaimed. In fact, ETAC believes they came from prisoners of conscience in prisons and labor camps near the plastination company in Dalian City, Liaoning Province. The company was founded in the same year the Chinese Communist Party launched a nationwide campaign against Falun Gong, a meditation system with about 100 million practitioners.
A large number of practitioners have been detained, tortured, or even killed for upholding their faith in Falun Gong during the past two decades, during which time the body plastination industry in China took off and the number of organ transplants increased exponentially. Van den Brande said that the timing of the establishment of the Dalian plastination company suggests that Falun Gong practitioners have been the main target since the beginning of the persecution and that most of the bodies exhibited were those of Falun Gong practitioners.
The plastination industry in China has about 20 years of history, continued Van den Brande. Dalian is a major center of organ transplantion, plastination, and the persecution of Falun Gong.
The Attorney General of New York issued an order in 2008 requiring body exhibitors put up a sign at the entrance indicating that they were unable to verify whether these bodies were from Chinese prisons. Due to ethical reasons, Van den Brande also recommends a ban on the importation of plastinated bodies from countries with the death penalty, including China. Some governments have implemented such a practice including France, the Czech Republic, Israel, Hawaii, and other U.S. states.
Van den Brande refuted the claim by some that such an exhibition has educational benefits or that these bodies are "respected." She said the body of a murdered person can never be exhibited respectfully and that they are meaningful for educational purposes only when there are no crimes involved.
The CCP has been accused of killing prisoners of conscience in the past few decades. Data shows that after the persecution against Falun Gong started in 1999, about 500,000 to one million practitioners were detained between 2000 and 2001.
Van den Brande said police have been involved. One email she had obtained said that two fresh premium bodies had just arrived at the Dalian plastination company, while livers had been taken merely hours before. The body exhibition includes bodies that are missing a liver or kidney.
The CCP announced in 2015 that it would stop using organs from prisoners and has published data showing that organs were taken from "voluntary" donors, but analysis shows those numbers were falsified and that the CCP has lied to the international community.
Investigators have contacted Chinese hospitals after the CCP's organ harvesting from prisoners of conscience was first reported in 2006. Doctors in many hospitals admitted that Falun Gong practitioners were used as organ sources. Later investigations in 2018 and 2019 revealed that organs were readily available and were sourced from young adults.
A doctor at Yuhuangding Hospital in Yantai City, Shandong Province said in 2017 that he had bypassed the official organ distribution system to obtain organs and that he had also conducted hundreds of transplants.
An independent tribunal in London found in 2019 that organ harvesting had occurred in China for many years and that Falun Gong practitioners were likely the primary source of these organs.

You are welcome to print and circulate all articles published on Clearharmony and their content, but please quote the source.