Falun Dafa practitioners from Sweden held a nine-day Falun Dafa class in Gothenburg from November 27, 2021, to December 5, 2021. They watched Master Li Hongzhi's nine-day lecture series given in Jinan, China, in 1994. On the last day, they discussed their cultivation experiences, and both new and veteran practitioners said they benefited greatly and were very thankful to Master and Dafa.
Gothenburg was one of the first cities outside of China that Master Li Hongzhi visited to introduce Falun Dafa, and Falun Dafa practitioners treasure this predestined relationship with Dafa. They have practiced Falun Dafa and presented it to the public for many years, holding nine-day lecture classes many times throughout each year.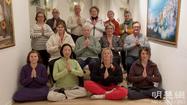 Practitioners express their sincere gratitude to Master after attending the nine-day seminar.
"My Perspective Changed and My Life Is More Meaningful"
Annette and her husband Kent, both new practitioners, arrived promptly each of the nine days. Annette said, "We have benefitted a lot during the class and have enlightened to many things. Our perspectives have changed and, most importantly, we have learned many incredible values. We are very grateful to Master.
"Both my mind and body went through dramatic changes. Many of my old notions were reversed. I want to start at the very beginning by letting go of my attachment to sentimentality. I also know that if something looks very bad on the surface, it might actually a good thing if we view it from a higher perspective." She said that she felt her life has become more meaningful.
Kent said, "I am very grateful to have attended the class. I have understood the principles of Truthfulness-Compassion-Forbearance and have been pondering many things and reflecting on myself over these several days. Thank you, Master!"
"Attending the Nine-Day Seminar Deepened My Understanding of the Fa"
Macarena is originally from Chile but now lives in Sweden and works as a rehabilitation instructor. She started cultivating Falun Dafa a couple of years ago and has found it very profound and immense.
"This is the first time I've watched Master lecture and it has deepened my understanding of the Fa," she said. "I will take more time to read Master's lectures in the future and adhere to the principles of Truthfulness-Compassion-Forbearance to be a better person. I am very happy to attend the seminars with everyone! Thank you, Master!"
"I Am Blessed to Cultivate Falun Dafa"
Catrina, who works in the medical profession, had been searching for a way to balance her mind and body and to relieve stress at work.
"I felt like I was drifting away from my inner heart and was unable to find my true self," said Catalina. "I finally found Falun Dafa about two years ago and realized this was what I had been searching for."
She felt dramatic changes in her body after attending the nine-day seminar. She said, "I feel very light and happy. I could not have been more clear mentally and have never felt so happy. I am extremely grateful to Master Li Hongzhi!" She said that she was very fortunate to have obtained the Fa and felt blessed to be cultivating according to the principles of Truthfulness-Compassion-Forbearance.
"Purification of My Physical and Mental Health"
Janett, a teacher, has been practicing Falun Dafa for two years. She said, "I now live by the principles of Truthfulness-Compassion-Forbearance and consider others first. This has resulted in many good changes in my work and living environments."
Janett was attending the nine-day class for the third time. "I benefit a lot each time," she said. "I feel that Master has purified my physical and mental health. I am very grateful to Master for all that he has done!"
"A Renewed Life"
Daniel, 46, was born in Barcelona. He has lived in Sweden for 11 years and works as a graphic designer. He said, "I feel that my life has been renewed after watching Master's lectures." Not only did he express his gratitude to Master, Daniel shared some of his cultivation experiences with the group.
"Thankful to Master from the Bottom of My Heart"
Ronald, 87, was a host of Sweden's educational radio channel before he retired. He'd been so obese he couldn't walk without getting out of breath. He became a new man after he started cultivating Falun Dafa—healthy and vibrant and no longer obese. He said, "Master guided me to Falun Dafa on my 80th birthday. No words can describe how happy and grateful I am to have obtained this gift. I am truly grateful to Master every day from the bottom of my heart."
Ronald has never missed a nine-day lecture class in Sweden. He abides by the principles of Truthfulness-Compassion-Forbearance to the best of his abilities.
"I've realized that the more patient I get, the closer I am to my inner peace. I am very grateful for that. I am very grateful for all that Master has done for me," he said.
"Master Has Given Me Strength and Wisdom"
Yvonne, an experienced economist, traveled to Tiananmen Square with 35 other Western Falun Dafa practitioners and appealed for Falun Dafa on November 20, 2001. She was brutally beaten and illegally detained by the police after the group held a banner that read "Truthfulness-Compassion-Forbearance." She has been publicizing the Chinese Communist Party's lies and propaganda for many years. Dafa has tempered her to be more calm and peaceful.
"I am very grateful for the nine-day seminar. Master has given me strength and wisdom. I am able to view things from a cultivator's perspective, and when I am faced with hardships and conflicts, I am able to resolve them with ease," Yvonne said.
"I am very happy to met new practitioners, and it was very nice to share our cultivation experiences. It almost seemed like we were predestined to meet here and I am grateful for Master's arrangements," she said.
"Improving Together in Cultivation and Not Letting Master Down"
Ms. Wang obtained the Fa in the summer of 1994 and was fortunate enough to attend Master Li's lectures in Jinan City, China, that same year. Master came to Gothenburg during Easter of 1995 to give lectures. That was the first time Falun Dafa was introduced to the people of Sweden.
"I feel that Master is right in front of me whenever I watch the nine-day lectures. During this process, Master purifies our bodies and we become renewed lives. Though there was a snowstorm here in Gothenburg during the lectures this time, everyone was punctual and no one was late," Ms. Wang said. "After witnessing practitioners' sincere hearts and physical changes after cultivation, I am very touched. I am grateful to Master for arranging a cultivation environment where I can upgrade myself with other practitioners. I remind myself to be diligent in cultivation and not let Master down."
Some of the newer practitioners gathered together for a group picture at the end of the nine-day seminar and called out from the bottom of their hearts, "Thank you, Master!"

You are welcome to print and circulate all articles published on Clearharmony and their content, but please quote the source.