"Touching. I thank them (Falun Dafa practitioners) for coming here to show everyone this," said architect Ms. Iwona Ligeza. She added that practitioners looked peaceful. She and her husband Szymon Pietrzak, who works in a bank, stood at the starting point of the parade for a long time observing practitioners and reading information about Falun Dafa.
Over 1,000 Falun Dafa practitioners showcased the beauty of Falun Dafa, told people about the ongoing persecution in China and celebrated 400 million Chinese citizens who have withdrawn from the Chinese Communist Party (CCP).
The parade route started from Plac Pięciu Rogów and passed through Warsaw's busiest areas, including Warsaw University and the Presidential Palace, before ending at one of the best known and oldest trade routes in Warsaw, Krakowskie Przedmieście.
The parade attracted a lot of attention along the route. People took fliers handed out by practitioners and many signed the petition to support practitioners in calling for an end to the persecution.
Architect: Thank You for Showing Us All These Things
Szymon Pietrzak, a bank employee, and his wife Iwona Ligeza, an architect, were impressed by the practitioners' parade.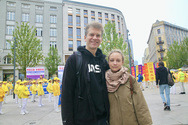 Szymon Pietrzak and his wife Iwona Ligeza
Szymon said, "You cannot showcase this practice in China, but you can here. You can also gain support." In regards to the CCP's 23 year long persecution and suppression of practitioners who follow the principles of Truthfulness, Compassion, Forbearance, he said, "No one should be persecuted for their faith. This should not happen in our world."
Iwona Ligeza is an architect and graphic designer. She shared Szymon's thoughts, "That is right. This persecution should not take place in today's human society. People have the right to think what they wish. In particular, Truthfulness, Compassion, Forbearance are purely universal values. The CCP should allow people to practice cultivation freely."
They both thought it was important to expose the persecution of Falun Dafa. Szymon thought that it is important for people in Poland to discuss these topics when people in China are unable to express their fight for freedom, "This is the only way. Tell the Polish government and politicians the facts about this persecution." Iwona agreed and said, "It is good to show these things in public and use this way to tell society about the suppression."
We Completely Agree With Truthfulness, Compassion, Forbearance
Gabriella and Andre saw the practitioners' activities the day before at the well known tourist spot Krakowskie Przedmieście. They spent a lot of time in front of each of the themes in the parade and spoke to different practitioners. "We saw the parade yesterday. We came again today," said Gabriella, who worked in IT before she retired.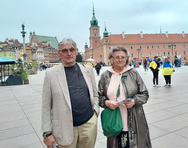 Gabriella (right) and Andre (left) watched both parades.
"We completely agree with Truthfulness, Compassion, Forbearance, that's why we returned today." She said she plans to share what she recorded with her friends and family. "We need parades like this. Good values have disappeared and should be revived. My husband, our children, grandchildren, and I—we love one another. I hope everyone, people can love one another and then fewer bad things will happen on this earth."
Andre, who previously worked in the culture department, said, "The parade is grand and has a great message: Truthfulness, Compassion, Forbearance" When he learned of the brutal persecution, he said he could still clearly recall what happened during the 1989 Tiananmen Square massacre and that the persecution of Falun Dafa must end.
The Parade Is an Unexpected and Encouraging Surprise
Ms. Natalia Rymar, an architect, changed her original plans in order to watch the parade. "The parade left a deep impression on me. It brings a positive feeling to society. It was well organized," she said. "I love it! Practitioners explained the facts clearly. The information is an unexpected and encouraging surprise."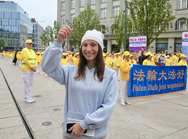 Architect Natalia Rymar said the parade deeply impressed her.
She said that because this parade was so attractive, "I even changed my original plans because there is a lot more purpose to this parade."
About the persecution of Falun Dafa by the Communist regime in China, she said, "I am astonished. Such things should not happen, everyone is free." "I think practitioners are upright, they are doing a good thing. They should not be oppressed. This cannot go on. I sympathize with them. I think it is not by chance that I saw this," she said.
She also thought that it is important for practitioners to raise such topics in public, "You have done well. Warsaw is an important, international city. These topics should be exposed more often on social media."
This Parade Makes One Feel Great
Mr. Przemysław Nowak, who owns a business, and Asia Miedzińska, a TV station makeup artist, want to help practitioners end the persecution.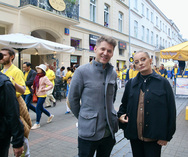 Mr. Przemysław Nowak (left) and Asia Miedzińska (right) wish to help practitioners end the persecution.
"I think this is a peaceful parade. It makes people feel great," said Mr. Przemysław Nowak. "I support them and encourage them to keep up the good work. People should live peacefully and this persecution must end."
Asia Miedzińska was shocked by images of the persecution portrayed in the parade and said, "This parade is held because people are tortured by the CCP. We must do something to oppose this persecution.
"This suppression is terrible, it makes one feel so sad. These Chinese citizens don't have freedom in their country, they cannot do the exercises." "Such a large scale activity to oppose this suppression, I hope it will help end this."
Mr. Nowak said, "We should support practitioners in resisting this. It does not matter what methods are employed. Everyone should have the right to do what he wants. So we want to stand up for this."
Both of them felt it was important to publicize this topic, "It serves as a constant reminder as to what is happening."
You Are Very Peaceful
Lukasz Granda, who works in computer numerical control, Konstancia Kitowska, an Arts and Sciences high school student, and many folk dance performers from the Kaschubien district were drawn to the parade, and stopped to watch it.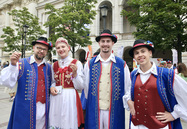 Folk dance performers Mr. Lukasz Granda (first left), Konstancia Kitowska, an Arts and Sciences high school student, and their companions loved the parade.
Mr. Granda said, "I love this parade. There are so many participants. It is very peaceful." Kitowska said, "It is extremely peaceful, bright and varied. Very well organized."
When asked about the persecution of Falun Dafa, Mr. Granda said, "What is important is that Communist ideology should vanish from this earth. Chinese people should be free to embrace their faith."
Background: What Is Falun Dafa and Why Is the CCP Persecuting It?
Falun Dafa (also known as Falun Gong) was first introduced to the public by Mr. Li Hongzhi in Changchun, China, in 1992. The spiritual discipline is now practiced in over 100 countries and regions worldwide. Millions of people who have embraced the teachings, which are based on the principles of Truthfulness, Compassion, and Forbearance, and have learned the five exercises, have experienced improved health and well-being.
Jiang Zemin, former head of the Chinese Communist Party (CCP), perceived the spiritual discipline's growing popularity as a threat to the CCP's atheistic ideology and on July 20, 1999, he issued an order to eradicate the practice.
Under Jiang's personal direction, the CCP established the 610 Office, an extralegal security organization with the power to override the police and judicial systems and whose sole function is to carry out the persecution of Falun Dafa.
Minghui.org has confirmed the deaths of thousands of practitioners as a result of the persecution over the past 23 years. The actual number is believed to be much higher. Countless practitioners have been imprisoned and tortured for their faith.
There is concrete evidence that the CCP sanctions the harvesting of organs from detained practitioners, who are murdered to supply China's organ transplant industry.

You are welcome to print and circulate all articles published on Clearharmony and their content, but please quote the source.