Falun Dafa practitioners participated in the Bremen Seniors Fair on September 14 and 15, 2022. They introduced Falun Dafa, demonstrated the five exercises, and distributed informational leaflets. Many people stopped to learn more about Dafa. After hearing about the Chinese Communist Party's (CCP) persecution of Falun Dafa in China, people condemned the CCP's brutality.
A shopping and experience fair (Einkaufs- und Erlebnismesse HanseLife) is held in Bremen every year in late summer. The Seniors Fair is a part of this event, with around ninety exhibitors. For several years in a row, practitioners have been invited to participate and introduce the exercises.
"This Is What We Need"
On the fair program the introduction to Falun Dafa read: "Experience the power of Falun Dafa, physical and mental health, and harmony." Eighty-year-old Edeltraud went to learn the exercises after reading the program. She told a practitioner that when she saw the name "Falun Dafa," she was immediately interested and wanted to learn more. "It's an inner longing. I want to come and see Falun Dafa," she said.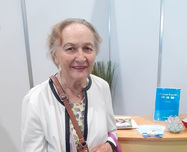 Edeltraud
Alex and Marc from Bremen were planning an exhibition. They went to the practitioners' booth and wanted to learn about Falun Dafa. A practitioner told them that by practicing Falun Dafa and following the principles of Truthfulness-Compassion-Forbearance, people can gain better health and improve their morality.
Alex and Mark were moved. Alex said, "This is exactly what we need in today's world." They said that they could feel the peaceful and positive energy emanating from the practitioners' booth. They invited practitioners to participate in an upcoming exposition in southern Germany.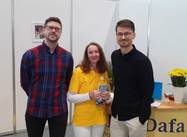 Alex and Marc
A Peaceful Harbor
Mario Weisbrod, a visitor, said that he could clearly feel the energy from the practitioners' booth. He said, "This kind of fair is noisy. I am deeply impressed with such a peaceful harbor (the Falun Dafa booth). That's why I wish to learn more about Falun Dafa."
He listened to the practitioners' introduction, and when he learned that practitioners look within amid conflicts, Mario felt that this was unique. "In today's world, people pay more attention to themselves than ever before. They blame others instead of themselves," he said. Mario was pleased to accept the information the practitioner offered him.
Background: What Is Falun Dafa and Why Is the CCP Persecuting It?
Falun Dafa (also known as Falun Gong) was first introduced to the public by Mr. Li Hongzhi in Changchun, China, in 1992. The spiritual discipline is now practiced in over 100 countries and regions worldwide. Millions of people who have embraced the teachings, which are based on the principles of Truthfulness, Compassion, and Forbearance, and have learned the five exercises, have experienced improved health and well-being.
Jiang Zemin, former head of the Chinese Communist Party (CCP), perceived the spiritual discipline's growing popularity as a threat to the CCP's atheistic ideology and on July 20, 1999, he issued an order to eradicate the practice.
Under Jiang's personal direction, the CCP established the 610 Office, an extralegal security organization with the power to override the police and judicial systems and whose sole function is to carry out the persecution of Falun Dafa.
Minghui.org has confirmed the deaths of thousands of practitioners as a result of the persecution over the past 23 years, though due to the difficulty in getting information out of China, the actual number is believed to be much higher. Countless practitioners have been imprisoned and tortured for their faith.
There is concrete evidence that the CCP sanctions the harvesting of organs from detained practitioners, who are murdered to supply China's organ transplant industry.

You are welcome to print and circulate all articles published on Clearharmony and their content, but please quote the source.