Practitioners in Ukraine held group exercises and told people about the persecution of Falun Dafa in the western cities of Khmelnitsky and Lviv on September 30 and October 1, 2023.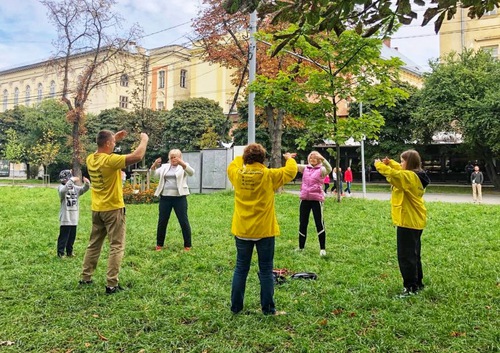 In several parks, they demonstrated the Falun Dafa exercises, distributed pamphlets, and told people how their health and lives benefited from practicing Falun Dafa. They also let people know how the Chinese Communist Party (CCP) persecutes the spiritual discipline. In the shadow of war, the practitioners peacefully doing the exercises stood out. Their calm and peaceful demeanor drew peoples' attention, and many started learning the exercises.  
Falun Dafa in Khmelnitsky
One couple walked past practitioners twice during the event in Khmelnytsky. The second time, the woman asked a practitioner about Falun Dafa. She expressed her admiration for the practitioners' perseverance in distributing materials for such a long time. She listened to what the practitioner had to say and said she supported Falun Dafa and its values of Truthfulness, Compassion, and Forbearance.
The woman and the practitioner discovered that they'd both lived in the same city and in the same area in Armenia when they were children. In fact, their grandfathers lived on the same street. The woman was pleasantly surprised by this coincidence. When the practitioner presented her with a small origami lotus flower, the woman expressed her gratitude.
A family stopped to watch practitioners do the fifth exercise. One of the women said that she wanted to learn to meditate. She said the exercises could help her family improve their health. When the practitioner told her about Falun Dafa, she said she felt inspired and encouraged.
Residents in Lviv Happy to Learn About Falun Dafa
In Lviv, two women did the exercises with practitioners. They said that a psychiatrist had told them that practicing Falun Dafa could improve their mental health and suggested that they attend a Falun Dafa class.
A young man who was interested in Chinese history stopped at the practice site. When he learned that Falun Dafa is a spiritual practice of the Buddhist School, he seemed pleased. He was surprised that there were people practicing Falun Dafa in Lviv. He called a friend and told him about it.
A practitioner told an 83-year-old woman how Chinese Falun Dafa practitioners continue to practice despite the CCP's persecution. The woman said, "Take care of yourselves. You are doing a great job."
Many people from small villages in western Ukraine go to the local market, so practitioners went there to distribute newspapers. The shoppers took the newspapers and some asked for additional copies for their relatives and friends.
Passengers on Train Admire Falun Dafa's Principles
A practitioner on the train home from the activity spoke with a soldier returning to the front after his leave. He said he thought that Falun Dafa's values were important and wanted to share them with his family.
The practitioner gave him a newspaper and a small lotus flower and recommended the children's book Lotus Flower Story. The book was written by a Falun Dafa practitioner to teach children to follow the principles of Truthfulness, Compassion, and Forbearance in their daily lives. The soldier sent the website link for the book to his two daughters.
A kindergarten teacher said that the values of Falun Dafa would greatly benefit her students and said she would read the book to them.
Practitioners Share Their Experiences
Lyudmila from Neteshin, who has practiced Falun Dafa for 13 years, participated in the event. She said she's benefited a lot both physically and mentally: "I learned to look inward and cultivate myself. When I changed, the surrounding environment also changed."
During the event Lyudmila told people how practicing Falun Dafa helped her.
Armina from Uzhgorod has practiced Falun Dafa for 15 years. Even though she is very busy, she always tries to find time to participate in activities to tell people about Falun Dafa and the persecution.
"After I began practicing Falun Dafa, many important and profound questions that had troubled me since I was a child were answered, and the knots that hindered me were untied," Armina said. "Perhaps some people are also pursuing the meaning of life and looking for answers to life-long questions. Perhaps through practicing Dafa, they can get the answers."
You are welcome to print and circulate all articles published on Clearharmony and their content, but please quote the source.